Can This Chinese Tank Beat Russia's T-14 Armata?
Chinese tank maker Norinco claims that its VT-4 is superior to Russia's deadliest armored fighting vehicle.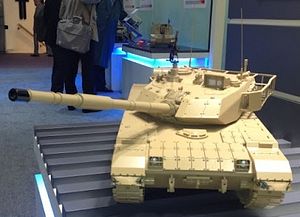 Last week, China Daily reported that China's biggest developer and manufacturer of land armaments, China North Industries Group Corporation, is aggressively promoting its products on WeChat, a social networking app with more than 500 million users.
During Norinco's latest marketing drive on WeChat, the company claims that its VT-4 tank boasts superior automation, mobility, and fire-control systems to Russia's T-14 Armata (see: "Putin's New 'Wunderwaffe': The World's Deadliest Tank?" ). Additionally, the article claims that the VT-14s technology is in general more reliable than that of the T-14.
"The T-14's transmission is not well-developed, as we saw through a malfunction taking place during a rehearsal before the May 9 parade," a WeChat article, composed by Norinco, stated (The Diplomat reported on this incident. See: "Did the 'World's Deadliest Tank' Just Break Down?") "By comparison, the VT-4 has never encountered such problems so far. Our tanks also have world-class fire-control systems, which the Russians are still trying to catch up with," according to Norinco.
Additionally the article emphasizes that the VT-4 is the economically more sensible choice: "Another important issue is the price – the T-14 is reported to have a price as high as that of the United States' M1A2 Abrams. … Why don't buyers consider Chinese tanks that have well-developed technologies and equipment as well as much-lower prices?" The lower price of the VT series is specifically designed to target the needs of militaries in developing countries.
Norinco also notes that in comparison to its Russian competition, it also can offer a much wider array of products. "Currently, Russia has only one new tank that is available for export – the T-90S. In contrast, we have the low-end VT-2, middle-end VT-1 as well as the high-end VT-4, covering the requirements of almost every client in the international market," the company said.
The VT-2's two major selling points are that it uses proven technology and that it is cheap. The VT-4, however, allegedly features the world's latest tank warfare technology and can be compared to any modern third generation main battle tank like the U.S. M1A2 Abrams or Germany's Leopard 2A6, according to Feng Yibai, chief designer of the VT-4.
The VT-4's "main gun is a 125 m smoothbore that can fire various shells, including kinetic energy penetrators and high-explosive anti-tank warheads. It can fire anti-tank missiles with a maximum range of 5,000 meters," China Daily notes.
Also, the VT-4 "has an advanced fire-control instrument, a new-type active protection system and a state-of-the-art, fully automatic transmission device," he said. "In addition, the inter-unit network connects commanders of tanks and armored vehicles under a combat group, enabling them to share battlefield data in a real-time manner," the WeChat article summarizes.
Any speculative comparison between the leading Chinese and Russian main battle tanks is in many ways premature and nonsensical; it has to be discarded as a mere clever marketing ploy  to garner attention at this stage. Neither of the two tank programs have entered the mass-production phase yet and most of the current speculation is based on prototypes and the sparse public data available. Without rigorous testing it is virtually impossible to verify whether the VT-4 does display superior automation, mobility, and fire-control systems.
China has traditionally relied heavily in the development of its indigenous tank force on Russian license-built technology and know-how. Judging from publicly available images, the T-14 appears to have made a clear break with older Soviet legacy tank designs, whereas the VT-4 very much looks like an improved version of the T-90s. This is as far as any sensible unclassified analysis should go at this juncture.
According to the United Nations' Register of Conventional Arms, China exported a total of 461 tanks from 1992 to 2013, whereas Russia sold 1,297 tanks during the same period. The United States is still the leading tank export of the world with 5,511 sales, followed by Germany with 2,680 exported armored fighting vehicles.