Is Russia's 'Deadliest Tank' Using Western Technology?
A new report highlights how Russia is circumventing sanctions to buy Western military equipment.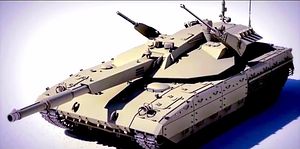 As I noted a while back, the T-14 main battle tank (MBT) is the crown jewel of Moscow's future tank force. Its new design constitutes in many ways a clear break with old Soviet-era military hardware "and represent the biggest change in Russia's armored fighting vehicle families since the 1960s and 1970s," according to IHS Jane's Defense Weekly.
The T-14 Armata's key feature is its unmanned remotely controlled turret (see:"Putin's New 'Wunderwaffe': The World's Deadliest Tank?"), and the location of the crew in an armored capsule in the forward portion of the hull. It also boasts a new automated ammunition feed system, and "high-resolution video cameras that offer its three-man crew 360-degree awareness around the body of the vehicle," the Business Insider states.
The T-14 is is the pride of Russian defense industry. However, if the recently published analysis of the U.S. cybersecurity firm Taia Global is correct, a crucial piece of the tank's equipment – the night vision cameras – might not even be Russian-made!
According to emails obtained by Taia Global (Russian hackers sympathetic to Ukraine hacked the email account of an Russian individual with apparent close ties to the FSB and provided the cybersecurity firm with more than 9,000 emails), the Russian defense industry is having difficulties producing thermal imaging systems like night vision cameras.
The reason? Russia's inability "to produce a critical component — microbolometer arrays — which can capture images without requiring cooling, reducing the size and complexity of thermal imaging systems," The Intercept, an online publication that analyzed the Taia Global report, explains.
The report quotes a 2013 letter written by Dmitry Rogozin, deputy prime minister in charge of Russia's defense industry (see: "Meet the Russian Politician Who Thinks 'Tanks Don't Need Visas'") who stated that "at present, the Russian Army only has a few hundred individual imagers and no sighting systems and machine vision systems with advanced performance. On the other hand, our potential enemy troops — NATO, are equipped with hundreds of thousands of thermal imaging sights, sighting and vision systems."
Consequently, in April 2014, Viktor Tarasov, the senior manager of a subsidiary of Ruselectronics, a state-owned hodling company, wrote a letter to its CEO in which he asked to press the Russian minister of defense for money to buy 500 microbolometer arrays from a French company.
The French company has denied selling Russia such equipment, although The Intercept notes that such actions are not without precedent: "Last year, Russian national Dmitry Ustinov was charged by the U.S. Department of Justice with using a front company, also based in Cyprus, to buy a variety of night-vision scopes and related equipment from the United States."
A number of other Russian military vehicles are using foreign technology. For example, the upgraded T-72 M1 is equipped with the French Thales Optronique Catherine thermal imager.
Yet, according to Taia Global, the emails obtained from pro-Ukraine hackers uncovered a similar sophisticated operation aimed at acquiring "foreign technology critical to Russian defense industries by bypassing foreign sanctions."
So, if the Taia Global report proves to be true, the odds that the T-14s night vision camera, proudly displayed during this year's May 9 Victory Day Parade, contains Western components are moderately high.
As Jeffrey Carr, CEO of Taia Global, told The Diplomat in an interview: "We regularly see Russian research institutes conducting reconnaissance against U.S. companies who work on high value technologies such as lasers and other optical systems."
Of course, this does not mean that the T-14 will be less deadly on the field of battle. It, however, does illustrate that despite reports to the contrary, Western sanctions are slowly beginning to hurt the Russian military and Russia's defense industry.