Meet the Russian Politician Who Thinks That 'Tanks Don't Need Visas'
Dmitry Rogozin believes in speaking loudly and carrying a big stick.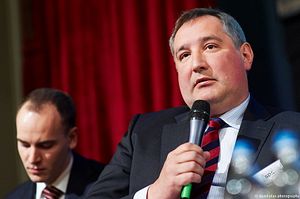 Dmitry Rogozin, Russia's deputy prime minister in charge of the country's defense industry and an outspoken hawk, has responded to Western concerns over Moscow's alleged militarization of the Arctic in his customary inflammatory style.
"I've always joked about it… so what if they won't give us visas, put us on sanctions list … tanks don't need visas," he told an interviewer on Russian state television last Sunday, according to AFP.
Last year, the former ambassador to NATO and notorious Putin loyalist, was put on a sanctions list of both the U.S. Treasury Department and the European Union, which made Rogozin announce that the Russian defense industry has "many other ways of traveling the world besides tourist visas."
Additionally, after Romania prevented the deputy prime minister's plane from entering its airspace in 2014, he announced that "next time I will fly in a Tu-160"  — referencing Russia's newest strategic bomber. That comment made the Romanian Foreign Ministry issue a statement calling Rogozin's words "a serious threat."
Back in 2013, after the commissioning of the first Borei-class SSBN (see: "Putin's Red October: Russia's Deadliest New Submarine"), the Russian Cabinet member tweeted: "You bourgeoisie tremble! You are screwed!"
The most recent diatribe comes in the wake of two-week long Western military maneuvers in the Arctic, codenamed  "Arctic Challenge" and involving 115 fighter aircraft and 3,600 military personnel from nine countries.
"The aim is to exercise and train units in the orchestration and conduct of complex air operations, in close relations to NATO partners," the exercise's commander, Norwegian brigadier general Jan Ove Rygg, said in a statement quoted in Newsweek.
The Norwegian-lead aviation exercise started yesterday in the arctic regions of Norway, Sweden and Finland. Other countries participating include the United States, Britain, Germany, France, Switzerland and the Netherlands. The last Arctic Challenge fighter jet exercise was held in 2013.
In March 2015, Russia had also held a large five-day military exercise in involving some 80,000 troops, 220 aircraft, 41 ships, and 15 submarines. Moreover, in December 2014, Russia created a new Arctic Joint Strategic Command on par with other commands in the Russian Armed Forces (see: "Russia to Build 10 Arctic Airfields by 2016"). Moscow's assertive arctic policy is primarily driven by its its claim over vast energy and mineral resources that are now extractable due to receding ice caps.
In response to yesterday's launch of "Arctic Challenge", the Russian Defense Ministry announced a four-day long military exercise of its own, a "massive surprise inspection" involving 12,000 troops 250 aircraft and 689 units of "various weapons and military equipment" targeting an "imaginary enemy." The snap maneuvers are taking place in the Ural mountains and Siberia –  home to Russia's central military district.
Dmitry Rogozin's most recent comment on Russia's ties with the West was published yesterday on his Twitter account: "It's not Russia that threatens the West. Its foundations will crash down under the pressure of ISIS and gays."