Pakistan Army Chief: Kashmir and Pakistan 'Inseparable'
Pakistan's chief of military staff, in an address, emphasized Kashmir's importance for Pakistan.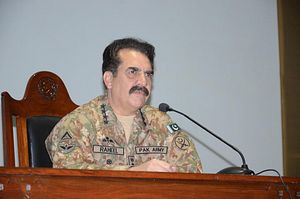 In an address at Pakistan's National Defense University (NDU), Pakistan's Chief of Army Staff Raheel Sharif delivered one of his strongest speeches on Kashmir to date. He described Kashmir as an "unfinished agenda" of the partition of British India in 1947, and underlined that Kashmir was "inseparable" from Pakistan. The speech was shared by social media through Pakistan's Inter-Services Public Relations (ISPR) Twitter feed.
Sharif noted that the Kashmir issue would have to be resolved in order to attain peace with India; he proposed a resolution in line with previous United Nations resolutions. "While we wish peace, stability in the region, we want Kashmir's just resolution in the light of UN resolutions and as per aspirations of Kashmiris to bring lasting peace in the region," he remarked. Sharif additionally discussed the changing contours of warfare in South Asia. He noted that Pakistan could keep up in the region, and was capable of defending its territory and interests.
He continued that "while [Pakistan's] enemies are supporting terrorism to stoke sub conventional conflicts and destabilise [sic] our country … [Pakistan is] fully determined and capable of defeating nefarious designs." Sharif went on to criticize the use of proxy forces. He noted that Pakistan was "opposed to the use proxies versus other countries and would not allow any country to use proxies versus Pakistan." Sharif's remarks on proxies and the use of terrorism by Pakistan's enemies were directed at India.
Pakistani officials have long claimed that India covertly backs terrorism in Pakistan. Last month, Pakistan's foreign secretary, Aizaz Ahmad Chaudhry, noted that India's intelligence agency—the Research and Analysis Wing (RAW)—was covertly backing terrorists in Pakistan. Sartaj Aziz, Pakistan's national security adviser and advisor to the prime minister, claimed just two days ago that India was involved in terrorist activities in Pakistan. Even the Pakistani prime minister, Nawaz Sharif (no relation to Raheel Sharif), strongly implied at a Pakistan Muslim League all-party conference that India wanted to "sabotage the multibillion-dollar China-Pakistan Economic Corridor (CPEC) project."
Sharif, who rose to Pakistan's apex military position in late 2013, has been less involved and outspoken on political issues than his predecessors. Historically, Pakistan's chiefs of army staff have played an important role in the country's foreign and security policy—certainly when they seized power from democratically elected civilian leaders in coups. Sharif, however, was seen as a more tempered military leader than those who came before him. He inherited a complex domestic security environment in Pakistan, and came to power at a time when the country was shifting its attention toward comprehensively countering extremist militants with its own borders.
To that effect, Sharif highlighted the Pakistani military's "noteworthy achievements" in Operation Zarb-e-Azb, the name for the ongoing campaign against homegrown terrorism in Pakistan. Sharif noted that the military had "created space for decisive surge against terrorists in urban areas." Sharif was also sure to highlight his forbearance toward Pakistan's civilian institutions and government, underlining the importance of civil-military cooperation: "Enhanced civil-military coordination has become even more critical to achieve a successful closure," he said.