Meet Lieutenant General Qamar Javed Bajwa, Pakistan's Next Chief of Army Staff
General Qamar Javed Bajwa will replace General Raheel Sharif as Pakistan's chief of army staff.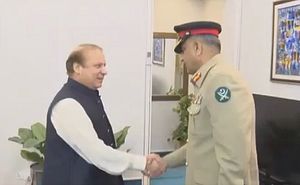 On Saturday, Pakistani Prime Minister Nawaz Sharif finalized his choice for the next person to lead the country's armed forces. Lieutenant General Qamar Javed Bajwa was appointed to the role of chief of army staff, where he will succeed General Raheel Sharif (no relation to the prime minister). General Sharif's term ends on November 29.
General Sharif was appointed in November 2013 and is stepping down at the conclusion of his three year term without seeking an extension like his predecessor, General Ashfaq Parvez Kayani. Kayani's term lasted from 2007 to 2013; he succeeded Pervez Musharraf, Pakistan's former president, in the role.
In addition to Bajwa becoming the chief of army staff, Sharif will appoint Lieutenant General Zubair Hayat as the Chairman of the Joint Chief of Staff Committee. Both appointments will be formally made by Pakistani President Mamnoon Hussain on the prime minister's advice.
Dawn describes Bajwa, a "career infantry officer belonging to the Baloch Regiment," as "something of a dark horse" in the race to succeed Sharif. Prior to his elevation, Bajwa served at the Pakistani Army General Headquarters as Inspector General of Training and Evaluation. Dawn adds: "Despite his extensive involvement with Kashmir and northern areas, he is said to consider extremism a bigger threat for the country than India."
When General Sharif was appointed in November 2013, most reports noted the same about his temperament and priorities. Indeed, though Operation Zarb-e-Azb, initiated in mid-2014, stands as Sharif's chief domestic legacy, recent months have seen a spate of tit-for-tat attacks against India over the disputed line of control in Kashmir.
Tensions between the two South Asian neighbors have been high since the September attacks by Pakistan-based militants on an Indian Army camp in Uri, in India-administered Kashmir.
Over the course of his three-year tenure, Sharif additionally showed that the Pakistani military would maintain its primacy over the country's broader strategic direction. Pakistan civilian leadership was able to test the waters for peace with India, but multiple attacks by militants — including attacks at Gurdaspur, Pathankot, and Uri most recently — were seen by India as evidence of the Pakistani military's continued resistance to rapprochement.
Above all, even if Bajwa does resolve to prioritize internal militancy over tensions with India in Kashmir and along the international boundary, the Pakistani military has long internalized a culture of seeing India as the country's primary threat and the organization's very raison d'etre. Upending that will take more than a change in leadership.
One lingering question is the effect the transition at the top of the Pakistani military establishment may have on ongoing India-Pakistan tensions. Since late-September, ceasefire violations across the Line of Control have been a regular occurrence, with a notable uptick in the last week. It remains to be seen if Bajwa will choose to deescalate with India as he takes over or if he'll look to maintain the status quo.
Finally, in terms of civil-military relations in Pakistan, the timely transition between the Sharif and Bajwa suggests that the civilian government maintains its primacy for now. Sharif no doubt had to consider whether his choice would be acceptable to the broader Pakistani military establishment, but that a successor to Sharif was appointed with little public difficulty bodes well for a civilian government that faces a range of internal challenges.
Civil-military tensions in Pakistan came under renewed scrutiny after reports in October that the Pakistani civilian leadership had informed the military to focus on clamping down on internal militancy and on proxy groups.
Pakistan has seen three successful coups through its independent history and several unsuccessful attempts. The last successful coup occurred in 1999, when then-Chief of Army Staff General Pervez Musharraf overthrew Prime Minister Nawaz Sharif during his second non-consecutive term. Musharraf went on to rule Pakistan for nine years.