This is Japan's Newest Aircraft for Securing the Ryukyus
The Japanese Air Self-Defense Forces will soon be flying some of the most modern early warning radar aircraft.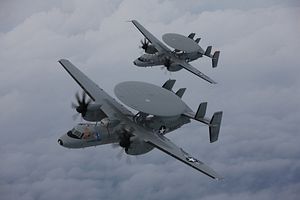 On June 1, the U.S. Defense Security Cooperation Agency (DSCA) announced that the U.S. State Department has approved a possible $ 1.7 billion sale of four tactical airborne early warning and control (AEW&C) aircraft and supporting equipment to Japan. According to the DSCA press release:
The Government of Japan has requested a possible sale of four (4) E-2D Advanced Hawkeye (AHE) Airborne Early Warning and Control (AEW&C) aircraft, ten (10) T56-A-427A engines (8 installed and 2 spares), eight (8) Multifunction Information Distribution System Low Volume Terminals (MIDS-LVT), four (4) APY-9 Radars, modifications, spare and repair parts, support equipment, publications and technical documentation, personnel training and training equipment, ferry services, aerial refueling support, U.S. Government and contractor logistics, engineering, and technical support services, and other related elements of logistics and program support.
Northrop Grumman's twin-turboprop E-2D Advanced Hawkeye (AHE) Airborne Early Warning and Control (AEW&C) aircraft is equipped with technology that can detect incoming aerial threats early, beyond the capabilities of ships, and is specifically designed to protect surface battle groups.
The plane, carrying a crew of two pilots and three naval flight officers, can also act as a strike command and control center and can be deployed in land and maritime surveillance, search and rescue missions, as well as civil air traffic control.
The Japanese Air Self-Defense Forces already operate 13 E-2C Hawkeyes, an earlier version of the E-2D AHE, in airborne early warning missions. The first five operational U.S. E-2D AHEs are currently assigned to Carrier Air Wing One aboard the aircraft USS Theodore Roosevelt (CVN-71).
The E-2D AHE is described on Northrop Grumman's website as a "game changer in how the [U.S.] Navy will conduct battle management command and control. By serving as the "digital quarterback" to sweep ahead of strike, manage the mission, and keep our net-centric carrier battle groups out of harms way, the E-2D Advanced Hawkeye is the key to advancing the mission, no matter what it may be."
The four E-2D AHE are scheduled to enter service by 2019, and will eventually replace the older E-2Cs. This May, the State Department also approved a $3 billion sale of 17 V-22 Osprey military transport aircraft and associated equipment to Japan (see: "Meet Japan's Newest Aircraft for Defending the Senkaku Islands").
"The proposed sale of E-2D AHE aircraft will improve Japan's ability to effectively provide homeland defense utilizing an AEW&C capability. Japan will use the E-2D AHE aircraft to provide AEW&C situational awareness of air and naval activity in the Pacific region and to augment its existing E-2C Hawkeye AEW&C fleet. Japan will have no difficulty absorbing these aircraft into its armed forces," the DSCA press release notes.
DSCA further stresses that the proposed sale will be in the national security interest of the United States since "Japan is one of the major political and economic powers in East Asia and the Western Pacific and a key partner of the United States in ensuring peace and stability in that region." The aircraft will likely be based on Okinawa, where they will be able to monitor the Ryukyu islands and the East China Sea.