Pentagon Awards Contract for US Air Force's New Top-Secret Bomber
Northrup Grumman emerges as winner, beating out Boeing and Lockheed Martin.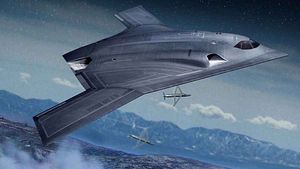 Yesterday, the U.S. Air Force (USAF) announced Northrup Grumman as the winner of a competition to develop its new top-secret Long-Range Strike Bomber (LRS-B), according to the USAF website.
"The LRS-B is critical to national defense and is a top priority for the Air Force," said Secretary of the Air Force Deborah Lee James. "We face a complex security environment. It's imperative our Air Force invests in the right people, technology, capability and training to defend the nation and its interests – at an affordable cost."
The LRS-B will "allow the Air Force to operate in tomorrow's high-end threat environment," she added. Elaborating on the selection process, James emphasized that it was conducted "with a high level of transparency with our industrial partners… we believe our decision represents the best value for our nation."
Northrup Grumman beat out a Boeing-Lockheed Martin partnership to be the primary contractor for the aircraft. However, Boeing and Lockheed Martin are likely to protest the contract award and will wage a lobbying campaign in U.S. Congress to challenge the Pentagon's decision.
"We are interested in knowing how the competition was scored in terms of price and risk, as we believe that the combination of Boeing and Lockheed Martin offers unparalleled experience, capability and resources for this critically important recapitalization program," a joint Boeing/Lockheed Martin statement read.
The contract consists of two parts. The contract awarded yesterday was for the Engineering and Manufacturing Development (EMD) phase, a "cost reimbursable type contract with cost and performance incentives," according to the USAF website, at an estimated worth of $21.4 billion in 2010 dollars.
The second part of the contract consists of options for the first five production lots to cover the production of the first 21 bombers. The USAF is expected to buy 80 to 100 bombers overall. In current dollars, the price tag for each bomber is estimated at $564 million. (Since few defense analysts expect the Pentagon to buy all 100 aircraft, the per unit cost is very likely to increase.)
The price per unit, in addition to around $23.5 billion in research and development expenditures plus future maintenance costs, means the overall total bill might exceed $ 100 billion, according to experts quoted in The Washington Post. (A conservative estimate by the Center for Budgetary and Strategic Assessments (CBSA) estimates that total costs will be around $90 billion in 2010 dollars, or approximately $73 billion in Fiscal Year 2015 dollars.)
There has been substantial confusion in the past on the aircraft's costs even among senior Pentagon officials.
As I reported previously (See: "Will the US Air Force's Top-Secret Bomber Cost 3 Billion Per Plane?") in 2014, the Pentagon's ten-year budget estimate for fiscal years 2015-2025 for the bomber program was $33.1 billion. However, in 2015 the estimate for fiscal years 2016-2026 suddenly jumped up to $58.4 billion. The USAF then stated that both numbers are, in fact, wrong and that the actual ten-year costs (the first installment in the 30-year program) are $41.7 billion for each period.
The announcement yesterday did not provide any details on the design of the bomber, although Northrup Grumman allegedly has a very robust open architecture design at hand based on tried and tested mature technologies. (See: "US Air Force's New Top-Secret Bomber Faces Further Delays"). The LRS-B will purportedly be designed to have stealth capability, carry both conventional and nuclear weapons, and will, in all likelihood, be optionally manned.
Defense News summarized additional details revealed during the contract award press conference:
According to Lt. Gen. Arnold Bunch, the military acquisition deputy, the two bomber teams offered up proposals with all industrial partners included — meaning providers for subcomponents such as engines have already been decided. However, Bunch said that information would remain secret for security reasons.
Risk-reduction efforts cost $1.9 billion from FY11 to FY15.
A tentative date for initial operating capability is 2025, although Gen. Robin Rand, commander of Global Strike Command, indicated that could change.
While many have referred to the bomber as the "B-3" as shorthand, Rand's office will have final say on the designation, which has not been reached.
Air Force officials will make themselves open to Boeing and Lockheed as early as Friday for an explanation of why Northrop was selected, Bunch said. 
The cost of the new bomber will, in all likelihood, be the most controversial issue in the years ahead. However,"we believe this is a reasonable and achievable estimate. If we remain disciplined and keep program requirements stable, we should beat this estimate," said Dr. William A. LaPlante, the assistant secretary of the USAF for Acquisition, when talking about the aircraft's price per unit.
"The program acquisition strategy has carefully integrated lessons learned from previous programs and considered all elements of life cycle costs in its design for affordability. We are primed to deliver this capability in the most affordable, efficient way possible," LaPlante added.