Australia and US Conclude Major Military Exercise in Pacific Region
The message of 'Talisman Sabre' was clear: Back off China!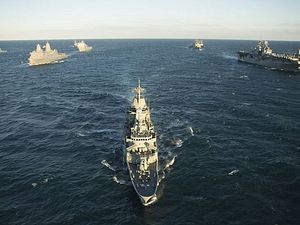 Held from July 4-19 and involving more than 33,000 troops, 200 aircraft as well as 21 ships, this year's  "Talisman Sabre" training exercise focused on the on the planning and conduct of mid-intensity "high end" warfighting, according to Australia's Department of Defense.
Held biennially, this year marked the sixth iteration of the joint Australia-United States military exercise held since 2005. For the first time, New Zealand and Japan dispatched troops (500 and 40 respectively) to participate in the maneuvers primarily held at the North Australian Range Complex (Bradshaw and Mount Bundy Training Areas and Delamere Range Facility),  the East Australian Range Complex (Shoalwater Bay, Townsville and Cowley Beach Training Areas).
The exercise constitutes the largest combined military drill involving the Australian military and covers a wide array of activities including force preparation activities, Special Forces activities, amphibious landings, parachuting, land force maneuver, urban operations, air operations, maritime operations and the coordinated firing of live ammunition and explosive ordnance from small arms, artillery, naval vessels and aircraft.
"During TS15 we demonstrated our Pacific partnership with the Australians and Kiwis. The first level of TS15 [Talisman Sabre] validated our long-standing relationship with the Australians and it was a reminder that our two nations have fought together in every major conflict since World War II," Commander Michael Posey, the U.S. Navy's lead planner for the exercise, said in a press statement.
According to Australian media, "[one of the key activities was a large amphibious landing by Australian soldiers from 2RAR and US Marines at Fog Bay near Darwin.  The Royal Australian Navy's Bay Class Landing ship HMAS Choules worked alongside the US Navy's amphibious force to deliver Australian and US personnel onto the beach."
The exercise involved the George Washington carrier strike group as well as the Bonhomme Richard expeditionary strike group along with a number of other U.S. vessels.
"The Bonhomme Richard with the amphibious transport docks Green Bay and Ashland and the destroyer Preble and the 31st Marine Expeditionary Unit conducted more than 20 amphibious landings using landing craft and more than 40 MV-22 Osprey flights from the Bonhomme Richard. Meanwhile, F/A-18Fs from Carrier Air Wing 5 embarked on the George Washington conducted in-flight refueling from a Royal Australian Air Force KC-30A tanker," Defense News reports.
On land, highlights included an air assault by a U.S. airborne battalion along with the Australian Army's 7th Brigade.
This year's focus of high-end warfighting differed from previous Talisman Sabre exercises where the emphasis was more on humanitarian aid, disaster relief, and counterterrorism operations.  The new focus also left little doubt about who the enemy in any high-end warfighting scenario in the Pacific region would be: the Chinese military.
This provoked some strong domestic reactions in Australia. For example, the leader of Australia's Greens, Scott Ludlam stated that the exercise is about "expeditionary wars and invasions." "Most people join the ADF [Australian Defense Force]  expecting that they're there for the defense of Australian territory," he added. "That's not what they are training for – it's about landing on beaches and invading other people's countries. (…) I don't think we should be preparing for a war with China."
The next Talisman Sabre is scheduled for the summer of 2017.