China's Navy Just Got Better at Detecting and Taking Out Submarines
With the commissioning of the Gaoxin-6, the PLAN's anti-submarine warfare capabilities receive a major boost.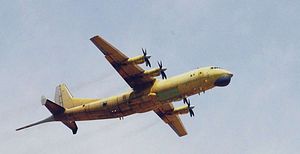 After years of development, China's Gaoxin-6, a four-engine, fixed-wing, anti-submarine patrol aircraft, was commissioned into the People's Liberation Army Navy's (PLAN) North Sea Fleet. The aircraft will be a major boon to the PLAN's anti-submarine warfare (ASW) capabilities, a neglected area despite China's broader naval modernization. The Gaoxin-6 is, in essence, a heavily modified Shaanxi Y-8 transport aircraft and reports over the years have noted that China's goal with this aircraft was to emulate the form and function of the United States' Lockheed P-3C Orion patrol aircraft, the most widely deployed anti-submarine aircraft in the world. The Gaoxin-6's commissioning, along with China's growing fleet of anti-submarine corvettes (specifically, the Type 056 Jiangdao-class), marks a milestone in the PLAN's ASW capabilities.
The Gaoxin-6 was developed by Shaanxi Aircraft Industry Corporation. It boasts a 6,000 km range and over eight hours of uninterrupted flight time. The aircraft's two most notable features that set it apart from other Y-8 variants include its sea-search radar, mounted just under the cockpit, and its rear magnetic anomaly detector. The Gaoxin-6 does feature a bomb bay, but it is unclear precisely how much and what types of ordnance it is capable of delivering. The P-3C, by comparison, can carry 20,000 pounds of ordnance, including Harpoon anti-ship missiles and Maverick air-to-ground missiles. According to China Daily, the Gaoxin-6's commissioning brings China into a club of five other nations that operate similarly sophisticated anti-submarine warfare ISR aircraft: the United States, Russia, Japan, the UK and France. A long-range anti-submarine ISR capability is critical for the Chinese navy's blue-water ambitions. Without an ability to detect submarines in unfamiliar waters, the PLAN's surface vessels would remain immensely vulnerable to hostile submarines.
Combine the proliferation of submarines in Southeast Asia with tensions in the South China Sea and you'll understand why the PLAN needs to field a robust anti-submarine intelligence, surveillance, and reconnaissance capability. Beyond the Gaoxin-6, submarine detection may even be driving China's construction work on disputed features in the South China Sea. As the Center for Strategic and International Studies' (CSIS) Asia Maritime Transparency Initiative told the Washington Post recently, China has set up a 109,000 square meter monitoring station on Johnson South Reef comprising, among other things, "a small port with limited berth space and two loading stations, two helipads, three possible satellite communication antennae, one large multi-level facility, two possible radar towers under construction, six possible security and surveillance towers for weapons and or sensors."
This sort of a monitoring facility, coupled with the Gaoxin-6 in the air and a growing fleet of Type 056 Jiangdao-class corvettes, will leave the PLAN with a considerably more formidable ASW setup than it had a year ago when numerous columns were being written at The Diplomat and elsewhere highlighting this capability gap in the Chinese navy. Regional navies—certainly Vietnam—are looking to offset the threat posted by the PLAN by using an asymmetric deterrence approach. The PLAN already enjoys conventional superiority in the South China Sea with its surface vessels; a robust ASW capability will crystallize this further by decreasing the effectiveness of potentially hostile submarines.