India, China to Discuss Lakhvi Issue and Cooperation on Counterterrorism
China's willing to talk with India about counter-terrorism cooperation, but will it listen?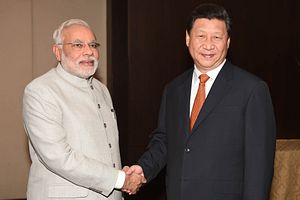 On June 23, China blocked an Indian procedural move at the United Nations sanctions committee under resolution 1267 (on Al Qaeda and its affiliates) to question Pakistan over the recent release of Zaki-ur-Rehman Lakhvi, a Lashkar-e-Taiba commander who remains infamous in India for his role as the central planner in the November 2008 terror attacks in Mumbai. China's move wasn't its first attempt to shield Pakistan from international scrutiny over its alleged treatment of international terrorists–it had similarly blocked India-initiated procedurals at the United Nations in the past. The Lakhvi episode, however, struck a particular nerve in India given the sensitivity of Lakhvi's particular case. The issue has escalated to the highest levels of government in India, with Prime Minister Narendra Modi vowing to raise the issue directly with Chinese President Xi Jinping on the sidelines of next week's BRICS summit in Ufa, Russia.
India and China regularly pay lip service to the issue of collaborating bilaterally on terrorism. In May, Modi and Chinese Premier Li Keqiang stated their joint resolve against terror and "urged all countries and entities to work sincerely to disrupt terrorist networks and their financing, and stop cross-border movement of terrorists." Despite this, New Delhi and Beijing do not consult on how they will approach these questions at international forums. In the case of Pakistan-backed terror groups, India and China are especially distant. China, as an ally and benefactor for Islamabad, is keen to prevent unnecessary criticism and scrutiny of how Pakistan's justice system handles the particularities of certain cases, including Lakhvi's. Meanwhile, for India, cases like Lakhvi's are immensely sensitive–the events of November 2008 in Mumbai are a constant reminder for India of the urgency of dealing with the Pakistani state's complicity in turning the other cheek to terror groups directed at India.
In the aftermath of recent events at the United Nations, it appears that China may finally be ready to hear New Delhi's concerns over this issue. Taking the initiative after complaints from New Delhi, China has proposed high-level consultations between its foreign ministry and India's Ministry of External Affairs over the issue. "We have similar positions on this. We are working quite well in this field. We are opposed terrorism all forms," noted Huang Xilian, deputy director general of the Asian Affairs Department in the Chinese foreign ministry. "We need to have further discussion and conversation so that we can have better understanding and can work closely on it. We are ready to do that. We have a mechanism of counter-terrorism consultation between the two ministries," he added, noting that the process of India-China cooperation on this topic at multilateral institutions would not be a simple matter. "We share similar positions in principle. On specific issues… we need to stay [in] close communication for better understanding and close cooperation," Huang emphasized.
Of course, it is unlikely that Indian sensitivities will push Beijing to abandon Islamabad from scrutiny in the future. Nonetheless, New Delhi can and should emphasize that there will be diplomatic costs for China's obstructionism. Since Modi came into office, China and India have been making steady diplomatic progress and have been willing to acknowledge that significant rifts remain between the two sides, including their border disputes. As Rohan Joshi noted recently here in The Diplomat, India can also pursue liaise with the United States on the broader issue of terrorism originating in Pakistan. In the near term, it'll be telling if Xi will be willing to address the issue head-on when he meets Modi on the sidelines of the BRICS summit next week. Beijing has said that it's content to talk to India about cooperation on terrorism, but the more important issue is whether its willing to listen to New Delhi's concerns.