Russian Tu-95 Strategic Bomber Crashes
A Russian Tu-95 bomber has crashed, killing two crew members.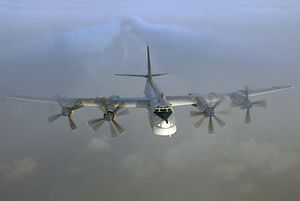 In the latest military aviation accident in Russia, a Tupolev Tu-95 Bear strategic bomber crashed outside the city of Khabarovsk, in eastern Russia near the Chinese order. The bomber was unarmed and on a routine training mission when the crash occurred. The bomber had a crew of seven. Two crew members died in the crash and five survived.
"At 9:50 a.m. Moscow time [06:50 GMT] on July 14, 2015, a Tu-95 crashed during a planned training flight 80 kilometers from Khabarovsk. The flight was conducted without weapons," the Russian defense ministry said in a statement. "The flight was conducted without weapons," it added. "According to preliminary data, after the aircraft commander reported an emergency situation [aboard the plane] the flight commander ordered the crew to leave the aircraft on parachutes."
The Tu-95 has been the primary strategic bomber for the Russian Air Force and entered service with the Soviet Union's air force in 1956. It is expected to remain in service halfway through the 21st century, at least until 2040. The aircraft has a distinctive appearance given its large fuselage and four-engine turboprop design. The Tu-95 is the only strategic bomber currently in operation that uses propellers and features over a dozen variants. The Russian Air Force also operates the more advanced Tupolev Tu-160 supersonic strategic bomber.
Russia's Tu-95 fleet flies near and far for regular exercises, but also to project Russian power. Earlier this year, Tu-95s were in the news as the Kremlin prepared to deploy them to the Crimean peninsula. Tu-95s regularly conduct exercises and patrols in the Pacific, outside the first island chain (occasionally entering Japanese airspace, prompting Japan's Air Self-Defense Force to scramble). In March, news that Russian Il-78 tanker aircraft had used Vietnam's Cam Ranh Bay airfield to carry out refueling missions for Tu-95 bombers on active reconnaissance patrols drew headlines as well.
The latest crash of the Tu-95 bomber comes in the wake of other crashes across the Russian Air Force's aging fleet. Two MiG-29s, an Su-34, an Su-24, and another Tu-95 have experienced major issues within the past month, highlighting an epidemic of poorly maintained aircraft throughout the Russian Air Force. According to a Russian defense ministry source who spoke to Defense News reporters, these crashes are being caused by the Russian Air Force's habit of overusing old aircraft, a lack of qualified pilots, and poor maintenance habits across the force. As the Defense News report notes, Russia has intensified its use of military aircraft following its 2014 annexation of Crimea and subsequent stand-off with the West, leading to overuse, decay, and, ultimately, fatal crashes.