The Legacy of a Fallen Chinese Politician
What lesson did China's politicians learn from the downfall of Bo Xilai?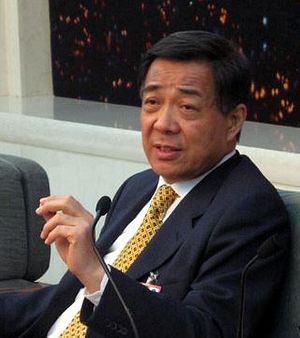 July 3 has no significance in Chinese calendar except for one minor point — it is the birthday of Bo Xilai, former Politburo member and party secretary of Chongqing. He celebrated his 66th birthday in jail. Once an internationally renowned politician with high ambitions, he is very likely to spend the rest of his life in Qincheng Prison (a special jail for former high-ranking officials of the Chinese Communist Party).
By now, everyone knows that Bo ended his political career in disgrace. That makes it easy to forget just how successful he once was. Arguably one of the most charismatic and capable leaders in the history of the People's Republic of China, Bo had his moments of glory. He was born into a "royal" family in 1949, the same year as the founding of the People's Republic of China. His father, Bo Yibo, was a veteran revolutionary. While Bo Xilai was growing up in Beijing, his father (along with Xi Jinping's father, Xi Zhongxun) worked very closely with Premier Zhou Enlai. The elder Bo served as the inaugural minister of finance, chairman of the State Construction Commission, chairman of the State Economic Commission, and vice premier.
During the Cultural Revolution, Bo's family suffered as much as the rest of the country. His father was dismissed from all of his posts and was tortured at the hands of red guards and revolutionary rebels. His mother, Hu Ming, was tortured to death on January 15, 1967. Bo Xilai himself was sent to a labor comp, and he stayed there for almost five years.
After the death of Mao Zedong, Bo's family resumed its previous glory. Bo Yibo, as one of the "Eight Immortals," was one of the most powerful and influential politicians from the late 1970s to his death in 2007, and Bo Xilai himself became a rising political star in China. During his tenure of 16 years in Dalian, a coastal city in Liaoning Province, Bo Xilai became a household name in China. Due to his efforts for environmental protection, Dalian, a traditionally industrial city, became a city of gardens. Bo, the mayor of the city, won the UN-Habitat Scroll of Honor Award in 1999.
Bo subsequently became governor of Liaoning, minister of commerce, and party secretary of Chongqing. At 1.86 meters, he stood tall among Chinese officials both literally and figuratively — his achievements in his posts outshone those of his contemporaries. Under his leadership, for instance, Chongqing, a backwater municipality of about 30 million in southwest China, became a major economic powerhouse in west China. Bo set up Liangjian New Area, the third national-level development zone in China (after the Pudong New Area of Shanghai and Binhai New Area of Tianjin) and introduced a series of economic, social, and political reforms in the municipality. As a result, Chongqing was ranked as one of the fastest growing regions in China.
Nevertheless, Bo Xilai's ambitious plan to enter the Politburo Standing Committee at the 18th National Party Congress scheduled for the fall of 2012 began to unravel on January 29, 2012. On that date, Bo slapped the face of Wang Lijun, the then-police chief of Chongqing, setting in motion a bizarre chain of events that would lead to Bo's downfall. Wang had accused Bo's wife, Gu Kailai, of having been involved in the murder of a former friend of the family, Neil Heywood. Gu was later sentenced to death with a two-year probation for her role in the murder, and Bo was sentenced to life imprisonment for corruption, bribery, and abuse of power. Bo appealed the verdict but his appeal was rejected. His fans still believe in Bo's innocence and think that he was simply a victim of power struggles at the top.
Today, Dalian continues to be one of the 10 most livable cities in China, while Chongqing is one of the country's 10 most competitive, happiest, and tourist cities. While China as a whole has been slowing down in its economic growth since 2012, Chongqing has maintained its rapid pace of double-digit growth and has been one of the fastest growing regions in China. But the man who has made tremendous contributions to their development has to celebrate his birthday in jail.
For other politicians, the era of Bo Xilai is gone. No one would ever want to emulate his flamboyant style again. It is now much safer to hide from the spotlight. Chinese politics are no playground. For China's politicians, the lesson of Bo Xilai is clear: better safe than sorry!