After Tianjin Blast, China Takes a Close Look at Safety Regulations
Chinese media are questioning how Ruihai Company was able to get around safety regulations for storing dangerous goods.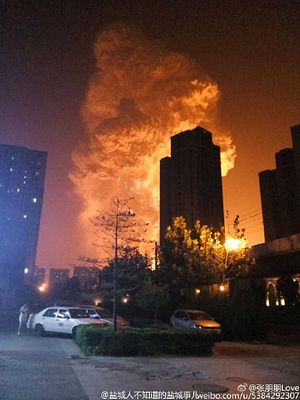 The explosions in Tianjin on August 12, which killed at least 56 and injured over 700, occurred at a warehouse operated by Tianjin Dongjiang Port Ruihai International Logistics Co. Ltd. The warehouse was apparently storing dangerous and flammable materials – what, exactly, has not been revealed yet.
The incident raised questions about the safety procedures in place for the storing and transport of dangerous chemicals. As David Wertime pointed out for Foreign Policy, Chinese netizens and reporters alike have questioned the safety policies in place – particularly, the wisdom of placing a storage facility for hazardous materials so close to a residential area.
That led to an awkward moment in a press conference with a Tianjin government spokesperson. As The Nanfang recounts, a reporter asked how far hazardous material should be located from residential areas, "according to environmental regulations." The spokesperson was unable to answer, and the press conference broadcast on CCTV cut out abruptly.
Caixin dug up the answer to the journalist's question, saying that Chinese regulations require "large- and medium-sized hazardous chemical storage facilities" to be kept at a distance of 1,000 meters from public buildings, infrastructure (including highways, railroads, and water lines) and industrial companies. The Ruihai company's warehouse, Caixin says, was only 800 meters away from the closest residential area. A resident from a nearby apartment building told Caixin the building was now "completely unlivable."
The Paper reports that residential areas were even closer than Caixin's estimate — within 600 meters of the warehouse. And the damage, Caixin notes, was extensive even outside the recommended 1,000 meter safety zone.
In addition, it seems most people were unaware that there were hazardous materials in the warehouse. China's Global Times talked to local residents who said they had no idea dangerous chemicals were being stored less than a kilometer away from their homes. Global Times and other media reports also suggest even Ruihai employees had not been trained in handling hazardous materials.
As The Paper points out, it's also unclear if the firefighters sent to the area were even told that there were dangerous chemicals on site – that this was "not an ordinary fire," as The Paper put it. Of the 56 confirmed dead in the explosion and ensuing fires, 21 were firefighters.
The Tianjin incident is sparking a widespread discussion of how effective China's government (particularly at the local level) has been in enforcing safety and environmental regulations. One expert cited by Global Times questioned Tianjin's overall development strategy, saying the chemical industrial sector had expanded too rapidly and without proper planning.
The Paper points out that Ruihai's warehouse was in violation of the required safety zone for storing hazardous goods before it was even built – so why, then, did the plan sail through the local government's environmental assessment?
As China-watcher Bill Bishop pointed out on Twitter, there have been "several cases [and] much media in recent months" regarding "corruption in environmental impact assessment process."  There's no reason to believe similar factors not were at play in Tianjin, Bishop says.
Ruihai's manager has been detained for questioning, according to Chinese state media.
In response to these concerns, China's State Council has pledged to "launch a nationwide inspection of businesses engaged in dangerous chemicals and explosives," Xinhua reports. The State Council noted a list of problem revealed by the explosions in Tianjin:
[L]ack of safety awareness among businesses and lax implementation of safety regulations… inadequate safety management of dangerous materials at ports, irregular practices among workers, weak emergency responses to incidents and lax supervision by authorities.
The State Council ordered local governments "at all levels" to strictly enforce regulations on the safety zone around industrial projects handling hazardous materials, and to "firmly implement regulatory measures for highly toxic chemicals."