Australia's Pending Defense White Paper
Subs, shipbuilding, terrorism and the South China Sea…the next White Paper will make for interesting reading.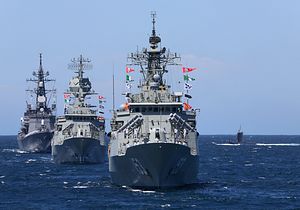 If you read the security and defense news out of Australia you would have been following a few things: submarines (or the debate over same) and shipbuilding, and the promise of a new defense White Paper. The former has seen a recent A$89 billion ($65.2 billion) pledge from Prime Minister Tony Abbott to build ships in Australia, at the South Australian shipyards, with the promise of 2,500 jobs to come from it, which sounds to most like the first election salvo of the season. The subs remain a more complicated issue.
However the White Paper is delayed again. Could this be linked to the somewhat unexpected news over shipbuilding? It's possible to infer. The last White Paper was published in May 2013 under Julia Gillard's tenure as a Labor Prime Minister. The Abbott government's first stab at a paper has been talked about since last year and was supposed to be here earlier.
Andrew Davies, a senior strategist at the Australian Strategic Policy Institute (ASPI) told Oceania that 2013's White Paper was essentially a bit of a stop-gap, holding document, "only ever intended to be a distraction from the defence funding cuts of the previous government, rather than a serious assessment of defence priorities and the strategic environment." In 2012, defense was cut to 1.6 percent of GDP, one of the lowest spends in many, many decades and the paper actually came a year earlier than promised (it was apparently to be a five-year plan, with 2014 following Kevin Rudd's 2009 offering).
This one will likely hark back to 2009's version in its assessment of the Asia-Pacific power balance and, Davies said, "that Australia should be prepared to do more with regional partners, especially the United States." And, of course, there is China and the South China Sea. As we've mentioned before, Australia is becoming louder on this issue and it was something Foreign Minister Julie Bishop brought up at the East Asia Summit in Malaysia last week, "We are deeply concerned that there may be militarisation of artificial reefs and structures and we called a halt to that as well… about 70 per cent of Australia's trade is through the South China Sea." Bishop called for Southeast Asian nations and China to respect freedom of navigation and of overflight.
The Department of Defense says the same, noting the "changes underway in our region and across the globe and the implications of these changes for Australia." Whilst a good example of generalist bureaucratese it still makes the point that Australia is looking at how the region is changing and how defense must anticipate the nation's needs as a result.
Of course that is not all such a document does. These papers are calibrated around political events and tenor as well; they are never simply guidelines for military plans. Peter Jennings (also of ASPI) wrote in 2013, "All Defence White Papers are inherently political documents… In the last forty years there have been six White Papers. Viewed at a distance, they knit into a pattern of relative continuity and gradual change, but each was part of a tough political contest of the day."
In which case, what is the political contest this government wishes to win with its paper? Well the shipbuilding announcements were moved forward and despite a Rand Corporation assessment that was not kind to South Australia, that state is being favored, to the anger of Western Australia and Victoria. Abbott likes the strongman aspect of his job far more than complicated policy or understanding the temperature of the electorate, and he is enthusiastic over fighting ISIS and getting new submarines. Bishop meanwhile, concentrates her speeches on multilateral approaches to cross-border security issues and regional threats and extremism.
As others at The Diplomat have noted, this government's focus has been more naval than land-based, and the South China Sea is going to help crystallize and also, possibly, justify that.