China Investigates Executives, Top Work Safety Official After Tianjin Explosions
One week after the blasts, the head of China's Work Safety Administration is being investigated for corruption.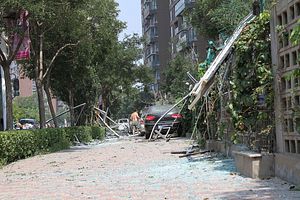 One week ago today, explosions in Tianjin left a giant crater where a chemical warehouse used to be and burned out 20,000 square meter of the surrounding area. As of Monday, the death toll had grown to 114, with 70 still missing (although not all of the deceased have been identified, so there may be overlap between the death toll and the list of missing persons).
It was soon revealed that the blast had occurred at a warehouse storing hazardous materials, which launched a nationwide review of how Chinese businesses store and transport dangerous chemicals.
The Chinese government also appears to be moving swiftly toward taking legal action in response to the explosions. On Wednesday, Xinhua interviewed executives of Tianjin Ruihai International Logistics Co. Ltd., the company that owned and operated the warehouse at the center of the explosion. Tellingly, the Xinhua lede introduced the firm as "a dubious company" and noted that all of executives interviewed for its story ("including company head Yu Xuewei, deputy head Dong Shexuan, general manager Zhi Feng and vice manager Cao Haijun") are being held by the police.
Xinhua said it had "uncovered false ownership" of the company, with friends or relatives holding stakes in Ruihai International for a former state-owned chemical company and the son of a former police official. Xinhua said the political connections of the true owners "are thought to have facilitated their business by helping them obtain various fire safety, land, environmental and safety certifications."
Dong Shexuan, who owned a 45 percent stake in Ruihai International, told Xinhua that he used his connections in the police and fire departments to get around fire inspections. Fire safety documents said that the warehouse was a safe distance of 1,000 meters away from public buildings, when in fact it was less than 600 meters from an apartment building.
"The first safety appraisal company said our warehouses were too close to the apartment building. Then we found another company who got us the documents we needed," Dong admitted.
Meanwhile, Beijing seems determined to go even higher up in its desire to hold officials responsible for the explosion. The Central Commission of Discipline Inspection announced on Wednesday that Yang Dongliang, director of China's State Administration of Work Safety,  is under investigation for "severe violations of discipline and law" – meaning corruption. Yang also previously served as vice mayor of Tianjin before taking up his post as head of work safety in 2012. Yang may not be directly connected to the Tianjin explosions, but taking him into custody a week after the blast sends a strong message that Beijing intends to crack down on corruption among its safety inspectors.
In other words, Xi Jinping's anti-corruption campaign has found a new avenue of exploration. After the explosion, Chinese people will be eager to see steps taken to ensure it doesn't happen again – Beijing can gain a lot of political capital by being seen to take swift action to clean up the enforcement of safety regulations and crack down on the use of connections (guanxi) to evade inspections.
Meanwhile, the after-effects of the chemical explosion continue to plague Tianjin. Residents noted white foam appearing on the streets after a rainstorm and some people (including journalists) complained of burning and stinging sensations when the rain hit their skin. Sodium cyanide, the chemical announced to have caused the explosion on August 12, reacts with water to produce a poisonous gas. Authorities have announced a three kilometer (roughly two mile) quarantine zone around the blast area.