Failure to Communicate: Will Japan Fall Behind on Australia's Collins-replacement Contract?
Japan has the finest product on offering, but savvy PR pitches from its French and German competitors may edge it out.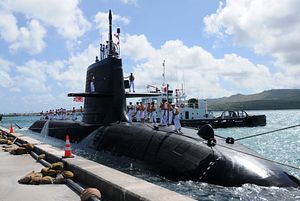 As many Diplomat readers may be aware, three firms are effectively in the running for a highly lucrative Australian defense contract to build the submarine that will replace the aging Royal Australian Navy's fleet of Collins-class submarines. Germany's ThyssenKrupp AG, France's Direction des Constructions et Armes Navales (DCNS) Group, and a joint bid between Japan's Mitsubishi Heavy Industries Ltd and Kawasaki Heavy Industries Ltd could be the potential winners of an expected $20 billion weapons deal. For the Japanese firms in particular, the Collins-class replacement bid presents a new opportunity to enter the lucrative global weapons market after Japan lifted a decades-old self-imposed embargo on weapons exports. What's more, Japan's Soryu-class submarines are among the most advanced non-nuclear attack submarines in the world and an expected favorite to cinch the Australian contract.
However, the Soryu's technology isn't going to sell itself. According to a fascinating new Wall Street Journal report, Mitsubishi and Kawasaki aren't ones to perfect the sort of public relations push that's often necessary to build an aura of positivity around pricey defense deals that are often seen as a form of superfluous spending by domestic audiences. What's more, ThyssenKrupp and DCNS on the other hand are very active in the "public charm offensives" in Australia according to the WSJ reporters. The report highlights some of the necessary "growing pains" that may afflict Japanese defense contractors with little experience in competing on the global market for multi-billion dollar hardware contracts.
The Journal report, however, goes further than implying that the two firms are simply inexperienced in the arts of public persuasion. Indeed, it highlights a sort of intentional "secrecy surrounding the government-led Japanese bid." The report speculates–correctly, in my view–that given the experimental nature of this contract for Mitsubishi and Kawasaki and regional tensions in Asia surrounding Japan's ongoing recalibration as a more "normal" country on matters regarding its own military and participation in the global market for military hardware, Tokyo may be reluctant to fully embrace the range of trappings that accompany international defense contract pitches. As one expert cited in the Journal notes, Japan sees the Collins-class replacement contract as "a case of exporting defense equipment, transferring technology and making Australian production possible" while competitors are "adding value with their proposals."
Tokyo could find that having the best product on the market–and the Soryu certainly is a highly competitive offering for the Australians–will mean little when it lacks the public relations panache necessary to get the Australians to put pen-to-paper. That said, Tokyo's secrecy regarding its participation in the Collins replacement process hasn't been all bad: in May, Tokyo approved the sharing of secret submarine technical data with Australia, a reflection of the more developed defense ties between the two countries. Japan's experience gap could cost it the deal. As my colleague Franz-Stefan Gady noted earlier this year, ThyssenKrupp, widely seen as the runner-up to Tokyo's Soryu offering, is appealing for Australia "mostly due to its experience in submarine exports." If Tokyo truly does have a superior product on hand, it needs to figure out how to communicate that to Canberra lest its firms lose out on billions.