Russia Beats China in This Year's International Army Games
Chinese soldiers, however, won gold medals in two individual championships.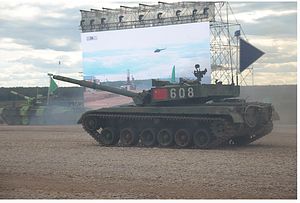 The 2015 International Army Games, organized by the Russian Ministry of Defense and held on 11 different firing ranges throughout Russia, came to a close on August 15 with the Russian team winning the most prestigious competition of the 14-day games — the tank biathlon — RT reports.
"The Russians overtook Kazakhstan, which had led the pack earlier, at the beginning of the second stage, and remained in front till the end, clocking an impressive time of 1 hour and 14 minutes," according to RT. "The Chinese team came in second for the day, with the Serbian tank crew completing the podium."
Overall, 13 teams participated in the tank biathlon with 12 countries using Russian-made colored-coded T-72B3 tanks to compete in the event. Only China brought its own tank force – four third-generation ZTZ-96A main battle tanks.
However, at the end of last year's competition, Chinese soldiers admitted that the Type 96A is underpowered in comparison to its Russian counterparts (See: "Russia to Host World Military Games: China Brought its Own Tank").
In total, around 2,000 military personnel divided up into 57 teams from 17 countries including Angola, Venezuela, Kuwait, Kyrgyzstan, Mongolia, Nicaragua, India, Armenia, Kazakhstan, and Tajikistan, participated in 13 field, air, and sea training competitions. The teams from Belarus, China, and Russia had the most members.
According to China Military Online, the People's Liberation Army (PLA) team won two gold medals in the "Safe Environment" and "Masters of Reconnaissance" competitions.
The PLA team earned silver medals in ten other disciplines, including the "Tank Biathlon," "Suvorov Onslaught," "Masters of Artillery Fire," "Airborne Platoon," "Caspian Derby," and "Masters of Automobile and Tank Hardware."
The head of the Chinese delegation told China Military Online that the competition will inform the ongoing combat training reforms within the PLA.
The closing ceremony of the International Army Games 2015 was held at Alabino firing range in the suburbs of Moscow. Russian Defense Minister Sergei Shoigu thanked all participants for "a beautiful and fair fight" noting that "for two weeks, every day from morning till evening, you showed what you were trained to do, what you are being trained to do on the firing ranges of our country, at sea, and in the air."
Russia's first deputy defense minister, Arkady Bakhin, said that next year's competition will have a "global reach." "I wish success in future to the teams and to prepare for the ArMI-2016 and to show their skills, professionalism and the best qualities," he added.
The event attracted around 250,000 spectators. According to the Russian Ministry of Defense, more than 13 million viewers followed the games via the ministry's website.