Will India, Russia Co-Develop a New 5th Generation Stealth Fighter?
India and Russia have failed to resolve their differences so far and the joint project appears to be going nowhere.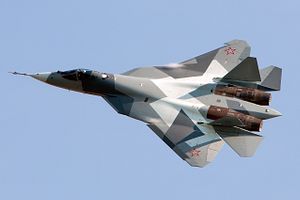 India and Russia have failed to make progress on one of their most prestigious defense deals—the co-development and production of the Sukhoi/HAL Fifth Generation Fighter Aircraft (FGFA), known in India as the Perspective Multi-role Fighter (PMF).
The most recent stumbling block to a successful continuation of the project has been Russia's unwillingness to share sensitive aircraft technology with India. New Delhi is demanding a full-scale transfer of technology in order to boost India's domestic fighter-manufacturing capabilities.
In September 2016, both sides agreed to a detailed work-sharing agreement. "From a preliminary document that was barely two dozen pages, we have agreed on a 650 page detailed plan that specifies exactly what all will be shared," an unidentified Indian defense official was quoted at the time. However, India has so far not signed the agreement. "We are awaiting the Indian side's decision on the FGFA project. We are fulfilling our obligations and are prepared to continue work," a Russian defense industry official told TASS news agency on March 22.
Before moving on, India wants a guarantee that Russia will be able to upgrade the fighter jet in the future without Russian support, which would require Moscow sharing source codes (sensitive computer code that controls the fighter jet's various systems — the key to an aircraft's electronic brains).  In addition, the FGFA should directly support India's advanced medium combat aircraft (AMCA) program—a separate Indian fifth generation fighter project. "This is mandatory," an Indian defense source told The Times of India on March 9.
As I explained previously:
The FGFA/PMF project has been hampered by repeated delays since the start of the project in 2007 and the signing of a preliminary $295 million design contract in 2010. In 2015, Indian Defense Minister Manohar Parrikar decided to make one last push toward reaching an agreement with Russia.
Furthermore, I noted:
Delays were caused by New Delhi and Moscow disagreeing over many fundamental aspects of the joint development project including work and cost share, aircraft technology, as well as the number of aircraft to be ordered. After evaluating the first PAK FA T-50 prototype (the Russian prototype of the PMF), the Indian Air Force (IAF) wanted more than 40 changes addressing, among other things, perceived weaknesses in the plane's engine, stealth, and weapon-carrying capabilities.
Another reason for the repeated delays were disputes over the number of aircraft to be produced:
Russia announced in late 2015 that it would only induct a squadron (18-24 aircraft) of PAK FA fighter aircraft, and procure additional Sukhoi Su-35 aircraft instead. The original deal involved Russia procuring 250 and India 144 aircraft at a cost of around $30 billion by 2022. As a result, India threatened to abandon the project in its entirety. Russia in turn made a number of concessions including an offer to cut down its financial contribution from $6 to $ 3.7 billion for three PAK FA T-50 prototypes and substantial technology transfers.
As always, the devil remains in the details and the joint project remains stalled for the moment. The Russian version of the new fifth generation fighter jet appears to be doing better. According to Russia's Deputy Defense Minister Yuri Borisov, the Russian Air Force could start receiving the first serial-produced T-50 (PAK FA) multi-role fighter jet already in 2018. However, Russian defense officials admit that Russia has so far failed to develop a new engine, called Product 30, for the aircraft, which could potentially push back the induction date.