Satellite Imagery: China Staging Mock Invasion of Taiwan?
Images from an Inner Mongolia training base show what looks like a replica of central Taipei.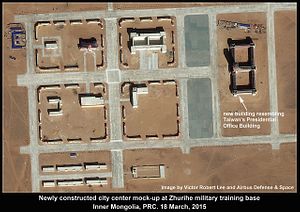 A time series of satellite images confirms that in 2014 and early 2015 China constructed for military training purposes a building that closely resembles Taiwan's Presidential Office Building in Taipei. The new building, at the PLA's expansive Zhurihe combat training base in Inner Mongolia, is situated on a newly constructed grid of streets and buildings that has similarities to the center of Taiwan's capital city.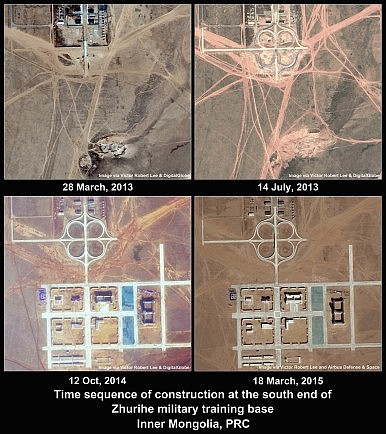 A video that briefly showed PLA troops practicing an assault on the building, broadcast by CCTV on July 5, 2015, received marked attention in Taiwan when reported on July 22 by the Shanghai-based portal Guancha, and subsequently by Taiwan's state-controlled Central News Agency, Apple Daily, and other outlets. A more detailed still image of the assault on the building appeared on China-based web portals, and was attributed to the PLA's China Military Net website, but currently the image cannot be found on the website.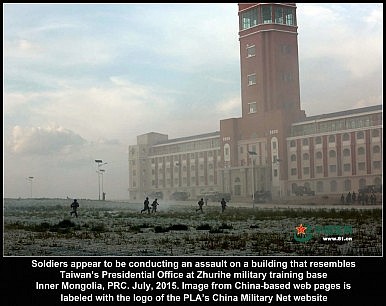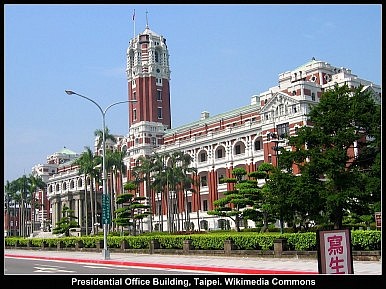 A Taiwan defense ministry spokesman called the drill "absolutely unacceptable," and a Chinese defense ministry official retorted that the exercise was routine and without a specific target.
While the mock building at Zhurihe is not a precise replica of the Japanese-built structure in Taipei, the similarities are striking. The fact that the mock building is part of a newly built complex unlike any other zone at the base means the exercise can hardly be called "routine."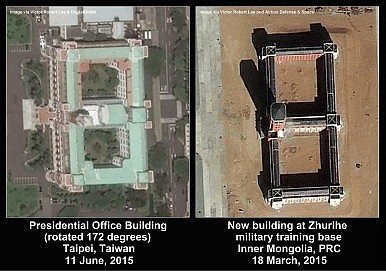 Both of the buildings have a bisected rectangle layout, are five stories high (with six stories at the corners), and have a central tower over the main entrance. The Zhurihe building is approximately 136 meters long and 64 meters wide, while the Taipei building, more ornate and with wider wings, is 130 by 77 meters. The height of the Zhurihe building's tower is 61-63 meters, as estimated by shadow length and sun elevation in the satellite image taken March 18, whereas the central tower in Taipei is 60 meters high. The Taipei tower is circular in cross-section and approximately ten meters in diameter, in contrast to the Zhurihe tower, which is rectangular in cross section and wider (13 by 16 meters). Both buildings have a façade of alternating vertical white and red finish and rectangular extensions at all four corners, as well as semi-circular protrusions at the bases of the façade extremities.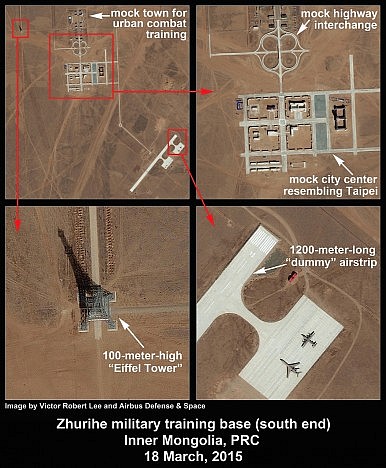 Adjacent to the mock city grid at Zhurihe is a reproduction of a highway cloverleaf interchange, constructed in 2013, which would be relevant to military intervention in a modern urban locale. Some web commentators have suggested it resembles a similarly shaped interchange eight kilometers southwest of the Taichung airport in western Taiwan.
The Zhurihe base, described by the PLA as "Asia's largest training base" and the PLA's "most modernized training base," also has a 1,200-meter-long dummy airstrip southeast of the faux city center; it first appears in an October 2014 satellite image. The runway is marked with the headings 04 (40 degrees) and 22 (220 degrees), although the heading numbers are placed at the wrong ends of the airstrip. In case the headings were not chosen at random (and since any headings could have been chosen for a mock airport), a search for relevant airports in the region with 04/22 headings was made, yielding Taiwan's Taitung air force base on the country's southeast coast, as well as the airport on the strategically located island of Miyakojima, in southern Okinawa prefecture, where Japan announced it was installing anti-ship missiles in 2014.
A puzzling feature near the new fake city grid at the Zhurihe base is a 100-meter-high tower, built in approximately 2011, that closely resembles the Eiffel Tower of Paris (300 meters) and is similar to another 1:3 scale imitation of the Eiffel Tower at Hangzhou, China. A tower of this height could be useful for telecommunications across the 1,000-square-kilometer base, however it does not appear to carry antennas, unlike at least two other more conventional towers located in the vicinity.
At least two other buildings in the faux city grid at Zhurihe resemble buildings situated near the real Presidential Office Building in Taipei. One is similar in size and shape to Taiwan's Ministry of Foreign Affairs (the Taiwan ministry building is 100 by 60 meters; the Zhurihe approximation is 95 by 50 meters). An L-shaped building and adjoining field at Zhurihe are similar in proximity and layout to the real-life Taipei First Girls' High School, whose sports field is the largest space near the Presidential Office Building that would be unencumbered by vehicles or trees if the PLA's helicopters were seeking to land close to Taiwan's seat of government.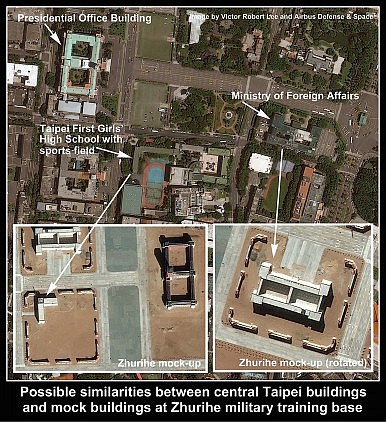 To be sure, China has used mock-ups of Taiwan targets for military training in the past. A replica layout of the military-civilian airport at Taiwan's western coastal city of Taichung, for example, has been acknowledged by Taiwan's Ministry of National Defense since 1999, and is visible by satellite today.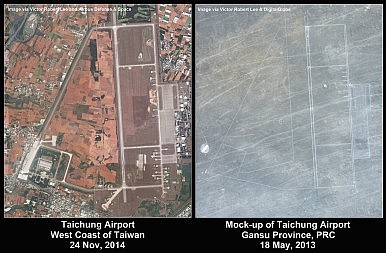 However, the civilian targets resembling Taipei at Zhurihe, constructed in the same 2013-2015 period during which Xi Jinping's government has aggressively moved to annex and militarize the South China Sea, challenged Japan on the Senkaku/Diaoyu Islands, and turned the screws on Hong Kong's representative government, suggest a new level of aggressiveness regarding Taiwan.
The practice assault on an imitation Taiwan Presidential Office Building, only briefly revealed in images courtesy of the CCP government, may be seen as a propaganda signal to Taiwan in advance of presidential elections in January 2016, for which recent polling gives a lead to the opposition (and more independence-minded) DPP candidate, Tsai Ing-wen. But the military drill at Zhurihe was more than propaganda. It was real, and it was a first. It had practical value for the PLA in training for an invasion of Taiwan. Satellite images also show that an analog of central Taipei at Zhurihe is real, and a first. Moreover, the practice assault was part of "Stride Zhurihe," probably China's largest annual ground military exercise, and this year larger than ever, involving ten brigades from seven military regions.
Set against the 100-ship live-fire South China Sea exercises in July that state media pronounced the largest-ever display of PLA Navy firepower, the ramping up of PLA air and sea drills in early June at the Bashi Channel between Taiwan and the Philippines, and Chinese Defense Minister Chang Wanquan's speech on July 31 in Beijing's Great Hall of the People calling for "unremitting effort to complete reunification of the motherland," the question must be asked: Is Xi Jinping preparing China for an invasion of Taiwan?
Victor Robert Lee reports from the Asia-Pacific region and is the author of the espionage novel Performance Anomalies.