US Air Force's Top-Secret Bomber More Expensive Than Thought
The U.S. Air Force misstated the costs for its top-secret program in a report to Congress.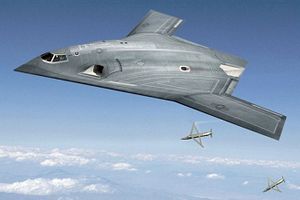 The costs of the top-secret Long-Range Strike Bomber (LRS-B)–likely to be designated B-3–have gone up due to a calculation error, according to the U.S. Air Force. The 2014 Department of Defense's ten-year budget estimate for fiscal years 2015-2025 for the bomber program was $33.1 billion. This year's estimate for fiscal years 2016-2026 jumped up to $58.4 billion.
However, according to Bloomberg Business, the U.S. Air Force now claims that both numbers are wrong and that the actual ten-year costs (the first installment in the 30-year program) were $41.7 billion for each period. The USAF did not offer an explanation for the discrepancies.
 "The Air Force is working through the appropriate processes to ensure" that the congressionally mandated report "is corrected, and that our reports in subsequent years are accurate," an U.S. Air Force spokesperson told Bloomberg Business.
The U.S. Air Force is expected to buy 80 to 100 bombers. Northrup Grumman is competing against Boeing and Lockheed Martin, which have partnered up to be the primary contractor for the LRS-B. The contract is likely to be awarded in September, according to military.com.
Research-and-Development costs alone are estimated to be around $25 billion, although the bomber is supposed to mainly be built from existing technologies, saving the R&D expenditures associated with new hardware and software.
Acquisition experts anticipate costs for the LRS-B to rise over the next few years. "The B-2 was promised initially at $525 million [per plane] and eventually came in around $2 billion," noted T.X. Hammes, a research fellow at the National Defense University. "I think we can kind of expect the same pattern unless we think suddenly we're going to break 70 years of aircraft development [trends] and the next one is going to be cheaper than the previous model."
As I noted in a previous piece (See: "What Do We Know About the US Air Force's New Bomber?"), specific details  on the LRS-B program are scant and remain classified. Only three things appear to be (somewhat) cast in stone: a 2025 in-service-date, a $550-$810 million unit cost (excluding development), and an 80-to-100 aircraft fleet (although one analyst called 100 new bombers a "wild fantasy" and expects per unit cost to rise to $3 billion). The rest is speculation.
Design and capabilities remain unknown save some obvious ones: the bomber is purported to have stealth capability, carry both conventional and nuclear weapons, and will, in all likelihood, be optionally manned. The LRS-B "could also carry bunker-busting, rocket-boosted munitions, high-powered lasers for self-defense and datalinks, and consoles for controlling radar-evading drones," according to wired.com.
Some defense analysts (See: "Adios Top Gun: The End of the Fighter Jet?") imagine that a future fleet of around 400 bomber-like multi-role aircraft could constitute the core of America's airpower in the 21st century. Perhaps the new LRS-B will be the nucleus of such a future force.