Australia: Change at the Top
In yet another political knifing in Canberra, a very different prime minister takes over.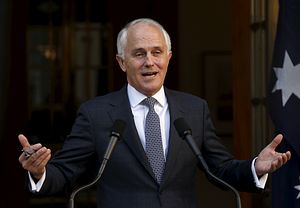 Tony Abbott lost his job as Australian prime minister to Malcolm Turnbull in the fourth leadership "knifing" in a decade. Though media in Australia and worldwide reacted with shock, was it always inevitable? Abbott's confusion and poor planning were responsible but so was his status as a figure of ridicule. It is his ridiculousness that people will remember most and it was that which often helped to drive down his ratings in opinion polls. Turnbull, the urbane millionaire, stands in contrast.
Before memes categorized and explained politics, people still kept track of George W. Bush's varied and excitingly original aphorisms. Bushims, if you remember. How, so many in America and across the world asked, can this man be in charge of anything? The more cynical wondered whether the missteps and maladroit gargles were intentional: Distract the intelligentsia with a carnival of stupid and maybe they won't notice what he's really doing. They noticed both.
Comedian John Oliver's sketch show Last Week Tonight profiled Tony Abbott with a gag reel of his gaffes and called him "President of the USA of Australia." Despite his policy flip flops ("rhetorical consistency" according to Oliver), broken promises, a disastrous first budget, and questionable metadata laws that neither Abbott nor his attorney general could ever explain coherently, and despite tightening national security at the expense of freedom whilst repealing sections of the Racial Discrimination Act to promote freedom, it was Abbott's "captain's calls," missteps, and strange behavior that many will remember him for. He even managed to insult the Irish on St Patrick's Day, in a kind of digital Guinness Diplomacy gone wrong. Abbott went because he was incompetent but in the public mind it was also because he was ridiculous.