A Schism Among Australian Conservatives
Cory Bernardi's defection from the Liberal Party is a significant moment in Australian politics.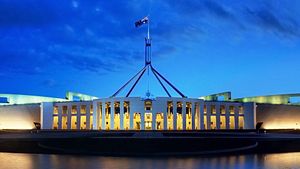 Australia's governing conservative Coalition experienced a small insurrection this week when South Australian Liberal Party Senator Cory Bernardi defected to form his own Australian Conservatives party. Bernardi, who has achieved notoriety for his strong socially conservative views, had been on the outer of the party since September 2015, when Malcolm Turnbull deposed of Bernardi's kindred spirit, Tony Abbott, in a party coup to become Liberal leader and Prime Minister.
While Bernardi's defection provides one less recalcitrant backbencher for Turnbull to deal with, it has once again created an existential crisis for the Liberal Party. Eliciting questions about whether the "broad church" of ideas that exist within it (and not just the Coalition as a whole) can continue to coexist with stability.
When the party was founded in 1945 it brought together a range of conservatives, nationalists, and liberals (in the more classical, market-orientated, European sense of the term), whose only significant commonality was their opposition to the Labor Party. Due to this, the dominant sentiment within the party has simply been to prevent the Labor Party from forming government, with a limited positive agenda of its own.
John Howard's ten-year Prime Ministership from the mid-1990s through to the mid-2000s shifted the balance of ideas within the party greatly towards its social conservative wing, with his protégé Abbott continuing this trend (albeit in a far less graceful manner). Yet with Turnbull's seizing of the party leadership, those with a more holistic understanding of liberalism were seen to have re-emerged.
Prior to last year's election I profiled Turnbull as someone with the potential to be a "transformational" Prime Minister. An actor who could transcend the orthodox Left-Right divisions, and who could reshaped both Australian politics and the country itself towards a more outwardly confident, inclusive and cosmopolitan perspective, if only he could gain the courage to confront his own party.
Within the governing Coalition there is a significant number of Members of Parliament (MPs) who remain loyal to Tony Abbott, and with their high school understanding of political philosophy they insist that Turnbull is a man "of the Left". They have no interest in making his life easy, as they see him as an imposter within their party.
Since the election Turnbull's submission to these conservative cultural warriors has only intensified. Turnbull has given in to them on almost every touchstone issue of theirs; from opposition gay marriage, to their climate change denialism, to advocacy of the country's continued poor treatment of refugees, and to an inquiry into the Racial Discrimination Act, a law they despise. He believes his actions are designed to keep the party together, yet his policy of appeasement has only consolidated their disdain for him, with Bernardi's decision to leave the party almost entirely based on Turnbull being leader.
The rise of political discontent and return of populist nationalism throughout the West has created a significant dilemma for most right-of-center parties. The Cold War tactic of "Fusionism", that stitched together conservatives and market-liberals into not just an alliance of groups, but an ideology itself, is not only fraying at the seams without the ideological challenge from Communism, but is now also facing a new internal threat from these insurgent nationalists.
Yet this recent party defection cannot quite be viewed in this light. Despite his admiration for Donald Trump, Bernardi remains an arch-fusionist, somehow convinced that if only the world was to trade more freely, society would return to the social norms of the 1950s. Instead Australia's challenge to the previous centre-right and centre-left political orthodoxies is taking an even weirder form.
While The Greens have now firmly established themselves as force to sop up dissatisfaction with Labor, what has occurred on the Right has been an extraordinary fracturing of the vote. Bernardi's Australia Conservatives will now join a motley crew of conservative actors in the Senate, with each state finding a different homes for their discontent.
The most prominent of these actors has been the re-emergence of the far-right One Nation party who have four seats spanning Queensland, Western Australia and New South Wales (NSW). Alongside One Nation sit caricature libertarian David Leyonhjelm of the Liberal-Democrats from NSW, Anti-pedophile crusader Derryn Hinch and his Justice Party from Victoria, populist everywoman Jackie Lambie from Tasmania, and the non-partisan protectionist Nick Xenophon and his team, as well as the the Christian conservative Family First party, from South Australia.
While this dispersal of discontent has provided a less dangerous release valve than if the anti-establishment vote was more concentrated in single populist party, the competing interests of all these actors makes it almost impossible for the Coalition to pass any legislation, and has the government more often than not negotiating with Labor instead.
Recent polling indicates that the primary vote for the governing Coalition headed by the Liberal Party (that includes the rural-based National Party, and and the Liberal-National Party of Queensland, where the two have merged), stands at 35 percent, an historically low percentage (down seven percent from the election). This array of minor parties and independents that occupy the Senate are now polling collectively around 19 per cent (alongside 36 percent for Labor and ten percent for The Greens), indicating that their presence, or at least the sentiment that drives their support, may be long term.
Yet, rather than the reactionary revolt that has become mainstream in countries like the United States and France, this increasing lack of faith in the current responsible, universalist parties, may not be a reaction against these principles per se, but merely a distaste for the politicians who have lost the public's trust to execute them. Would-be politicians who embody these universalist principles, and genuinely wish to create solutions, continue to gravitate towards the parties of the Coalition, Labor or even The Greens (depending on the faction), where they quickly become corrupted by an entrenched and self-serving party machinery.
The disaffected vote may be going to parties of fringe ideas, but this could be seen as a voter disaffection that is in search of a solution, a sentiment that pushes to the extremes in order to force the more responsible actors to improve their performance. Or reinvent themselves towards a more succinct and consistent package of ideas, in the case of the Liberal Party.
Since the Labor Party embraced the market in the 1980s, and reformed itself away from from its socialist roots towards a technocratic rational-pragmatist party, there has been little to differentiate it from the liberal wing of the Liberal Party in both outlook and policy, bar a residual partisan bickering.
With this in mind, the current dysfunction within the Liberal Party should be seen as an opportunity, rather than a problem. While the cliché continually mouthed by Australian politicians remains "disunity is death", the faux-unity of the Liberal Party is looking like an increasingly rapid degeneration.
Grant Wyeth writes for The Diplomat's Oceania section.