Australia: Malcolm Turnbull's Economic Challenge
The new Australian PM finally achieves his ambition, but the hard work has just begun.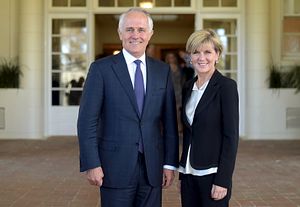 Australia's fifth prime minister in five years, Malcolm Turnbull has promised a new economic vision for the world's 12th largest economy. But with growth slowing, an obstructionist upper house, and an electorate worried over increasing joblessness and falling living standards, can the former businessman deliver?
On Monday evening, Liberal Party lawmakers voted 54 to 44 in favor of 60-year-old Turnbull over Abbott, 57, who had secured a landslide election victory for the center-right party just two years earlier. Popular Foreign Minister Julie Bishop was reelected deputy leader, defeating Abbott nominee Kevin Andrews by 70 votes to 30.
Financial markets reacted cautiously Tuesday, with the Australian stock market opening higher but closing 1.5 percent lower on worries over China and the U.S. Federal Reserve. The Australian dollar also enjoyed an early gain Tuesday morning, reaching a two-week high of US$0.716, before falling back on international factors.
Turnbull's victory followed his loss of the Liberal leadership to Abbott in 2009 by just a single vote, with Abbott subsequently narrowly losing the 2010 election as leader before his 2013 triumph.
Turnbull cited as reasons for his challenge Abbott's inability to provide economic leadership, his "captain's picks" – such as awarding a knighthood to Britain's Prince Philip – and the government's deepening unpopularity with voters, having lost "30 Newspolls in a row."
With a federal election due next year, Turnbull warned his colleagues of a looming defeat: "If we continue with Mr Abbott as prime minister, it is clear enough what will happen. He will cease to be prime minister and he'll be succeeded by [Labor Party leader Bill] Shorten."
In contrast, Abbott warned against "Labor's revolving-door prime ministership," stating the leadership should be "earned by a vote of the Australian people."
Yet with the Australian economy slowing to a virtual crawl, the currency plunging and jobless rate rising, Turnbull pledged in his post-election victory speech a new economic vision, based on his party's traditional values.
"This will be a thoroughly Liberal government committed to freedom, the individual and the market. It will be focused on ensuring that in the years ahead, as the world becomes more and more competitive and greater opportunities arise, we are able to take advantage of that," he said.
"The Australia of the future has to be a nation that is agile, that is innovative, that is creative. We cannot be defensive, we cannot future-proof ourselves. We have to recognize that the disruption that we see driven by the technology, the volatility and change, is our friend if we are agile and smart enough to take advantage of it. There has never been a more exciting time to be alive than today, and there has never been a more exciting time to be an Australian."
While not outlining specific measures, Turnbull pointed in his post-election press conference to his trans-Tasman counterpart as a role model in delivering reform.
"My firm belief is that to be a successful leader in 2015, perhaps at any time, you have to be able to bring people with you by respecting their intelligence in the manner you explain things….[New Zealand Prime Minister] John Key for example, has been able to achieve very significant economic reforms in New Zealand by doing just that," he said.
Turnbull pointed to his experience as Communications Minister in approaching the contentious issues of the National Broadband Network (NBN) and state-owned Australia Post as examples where he had sought to explain first and reform later, which he described as "critical" in building confidence.
Like Key, Turnbull is considered an economic conservative but moderate on social policy, while both leaders enjoyed successful careers in business prior to becoming politicians. In 2010, Turnbull's net worth was estimated at A$186 million, making him the second-richest Australian politician behind independent lawmaker Clive Palmer.
"Malcolm, unlike many politicians in parliament, has had successful careers in the real world. He was a lawyer, an investment banker and entrepreneur before he entered politics," Hamish Douglass, chief executive of Magellan Financial and a former business associate of Turnbull's, told the Financial Times.
"He is the John Key of Australian politics, socially progressive but economically conservative," he added.
Turnbull has challenged Abbott on such issues as marriage equality, an Australian republic and climate change, although faces a challenge in gaining consensus on such issues among the conservative wing of his party.
The new leader's first task in securing internal consensus will be his choice of ministers, among whom Social Services Minister Scott Morrison is tipped to secure the key post of treasurer, replacing the gaffe-plagued Joe Hockey. A cabinet reshuffle is not expected until after the parliamentary sitting week however, which ends Thursday.
Former deputy Liberal leader and ex-government minister Peter Reith told Sky News that Abbott and his treasurer's removal could be attributed to their economic failings.
"Quite frankly neither of them [Abbott or Hockey] really had a grasp over where they were going to go on the economics. And that was very clear in the first budget, because in one breath they were saying we're short of a dollar, and in the next breath they were announcing a A$20 billion medical facility, for example. So there was a confusion about their objective," he said.
"Let's face it, in the end what does a Coalition government have to really prioritize, and that is economic management. The Abbott government on three big issues, tax, workplace relations, federal-state relations, they themselves have had to admit effectively by their own hand that all they've been able to do so far is to get some reports done – we still have no idea of what they'd actually do."
Confidence Boost?
Economists said Turnbull's success could provide a boost to consumer and business confidence, depending also on his pick as treasurer.
"We think both business and consumer sentiment readings have been adversely affected for a number of months by the lack of economic and fiscal policy direction under Tony Abbott and Joe Hockey," Citi analyst Josh Williamson told the Sydney Morning Herald.
RBC Capital Markets economist Su-Lin Ong told the daily that improved confidence could even lead to the Reserve Bank of Australia (RBA) forgoing another interest rate cut.
"The RBA's frustration over the lack of 'animal spirits' and pick-up in non-mining investment has been well articulated over the past 12 months and the confidence factor has, in our view, been the missing link," she was quoted saying.
ANZ Research said consumers were "fragile and worried about the outlook," giving Turnbull the opportunity to "positively influence business and consumer confidence." It said two government White Papers currently being drafted on tax and federation could form the basis of Turnbull's reform efforts, although this would depend on "his government's ability to expand the economy's potential."
"Turnbull's past statements and his more liberal approach suggest he will have some policy differences to Abbott, although we do not expect a significant shift of policy in the short term," the Australian bank said.
Turnbull has endorsed the Coalition government's free trade agreements with Asian trading partners China, Japan and South Korea, criticizing Opposition Leader Shorten for his attacks on the China trade pact. But winning consensus on domestic reforms including taxation and labor laws could prove far more challenging, along with mapping a pathway toward fiscal balance in the wake of deteriorating government finances and with a hostile upper house of parliament.
Australia's 29th prime minister also faces the tricky task of deciding on the nation's multi-billion dollar submarine contract, which is currently being contested between France, Germany and Japan. With South Australian lawmakers lobbying for the submarines to be built in their state, Turnbull must ensure the winning contender offers enough jobs and dollars for the state without damaging the nation's relations with a friendly bidder such as Japan, whom Abbott praised as a "new special relationship."
Long considered a future prime ministerial contender, Turnbull has finally achieved his ambition by toppling his political rival. For the Sydney lawmaker and former businessman, the hard work has just begun if the Lucky Country's luck is going to hold a little longer under his leadership.