China, Iran Predict Closer Ties Thanks to Nuclear Deal
Iranian Foreign Minister Zarif visited China to discuss the future of the relationship once the JCPOA takes effect.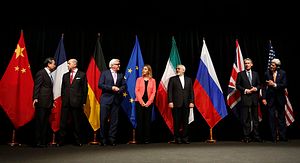 Iranian Foreign Minister Javad Zarif arrived in China on Tuesday for talks with Chinese officials, including his counterpart, Wang Yi, as well as Prime Minister Li Keqiang. In their discussions, both sides predicted a bright future for China-Iran relations in the wake of the nuclear deal reached by Iran and the P5+1 countries earlier this year.
This was Zarif's first trip to China since the deal, officially known as the Joint Comprehensive Plan of Action (JCPOA), was finalized in July. The JCPOA calls for Iran to implement restrictions on its nuclear program in exchange for the lifting of international sanctions against the country.
Once those sanctions are gone, Zarif sees a bright future for Iran's relationship with China. "Iran has always regarded China as a strategic partner, and bilateral relations will undoubtedly improve following the Joint Comprehensive Plan of Action," Zarif told Li during their meeting, according to Press TV.  Li agreed, saying that China and Iran could strengthen cooperation in a number of fields after the deal is put into action and sanctions are lifted.
With the optimism for their relationship riding on the successful implementation of the JCPOA, both sides took time to emphasize the importance of sticking to the deal. In his meeting with Wang, Zarif expressed particular concern about political opposition to the JCPOA in the United States. In addition to criticism from the Republican-controlled Congress, Republican candidates for president have also threatened not to implement the deal.
"The U.S. government has agreed to stop its sanctions against Iran and I hope they can deliver their promises even if there is change of presidents and governments in the future," Zarif said, noting that "by international laws, all the governments in every country in the world [have] the responsibility to keep the promises the previous government has made."
Wang said that China and Iran agreed that "it is urgent for all sides to deliver their promises and kick off the first step of the implementation process."
Assuming the deal does come to fruition, China and Iran have big plans for future cooperation. Wang noted the potential for deeper economic ties, calling the two countries' economies complementary. Zarif agreed, and pointed out that "Chinese companies will have more chances to cooperate with Iran" once Western sanctions are lifted.
The two sides also noted a desire to cooperate strategically. Zarif said that China and Iran "share similar views on regional issues, which should be solved in a political way." In particular, Zarif expressed a hope for the two countries to cooperate on regional issues "in Yemen, Syria, and the Middle East."
Wang agreed that "the unrest in West Asia and North Africa regions is not sustainable" and "should be solved in a political way."
Wang also announced that China and Iran have agreed to start regular talks on strategic cooperation, providing a potential forum for coordinating their approaches to regional issues.