China's President Woos (and Reassures) US Business Leaders
At a meeting with U.S. and Chinese CEOs, Xi addressed fears that U.S. companies are no longer welcome in China.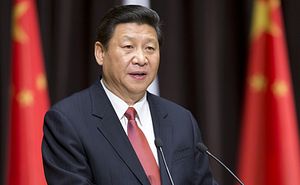 Chinese President Xi Jinping spent his second day in Seattle on Wednesday, his itinerary packed full of activities designed to court American business leaders – particularly those from the high-tech sector. Xi attended a roundtable meeting with U.S. and Chinese CEOs and toured Boeing and Microsoft's headquarters before looking in briefly at the U.S.-China Industry Internet Forum. For Xi, the name of the game was reassurance – trying to quell rising fears in the U.S. high-tech community that China is trying to force their firms out of its market in favor of domestic alternatives.
The CEO roundtable, co-hosted by the Paulson Institute and the China Council for the Promotion of International Trade, brought together 15 American and 15 Chinese CEOs. Attendees included Mary Barra (CEO of General Motors), Jeffrey Bezos (Amazon), Warren Buffet (Berkshire Hathaway), Tim Cook (Apple), Robert Iger (Walt Disney Co.), Dennis Muilenburg (Boeing), Satya Nadella (Microsoft), and Virginia Rometty (IBM) on the U.S. side. Chinese CEOs included Jack Ma (Alibaba), Pony Ma (Tencent), Zhang Yaqin (Baidu), Lu Guanqiu (Wanxiang Group), and Yang Yuanqing (Lenovo).
Xi's message to this group was that China's market will only become more hospitable to foreign businesses. When it comes to China's economic reforms, Xi said, "There is good news and I believe there will be more good news in the future."
Xi also championed a bilateral investment treaty between China and the United States, echoing his remarks on Tuesday evening in Seattle. However, analysts say BIT negotiations remain stalled, with U.S. negotiators complaining that China's "negative list" of sectors that would be off-limit to foreign investors remains too broad.
U.S. business leaders are also concerned about a new national security law in China that critics say could force companies to create backdoor access for the Chinese government or to turn over source codes and other proprietary information. Just before Xi arrived in the United States, the news broke that the Chinese government was trying to get U.S. tech firms to sign a pledge that they will adhere to the new law's requirement that technology in critical sectors be "secure and controllable."
The Obama administration has been outspoken about its concerns with the law, worries shared by many of the CEOs present at the roundtable. Xi didn't address the law specifically (at least not in his prepared remarks, the only part of the roundtable that was public), but reassured attendees that "we are working to build a new open economic system."
He also pledged that China will step up efforts to protect intellectual property rights, a perennial area of concern for U.S. companies. "[T]here will be much stronger IPR protection, which will serve the interests of foreign businesses as well as Chinese companies," Xi said."
Xi's speech is unlikely to convince wary U.S. investors, however. Dean Garfield, president of the Information Technology Industry Council, remains skeptical of China's new national security law. He told Seattle Times that the content of such laws "suggest that the goal is more than simply national security and may tip the scales in favor of domestic players in a way that is unfair."
For some companies, though, Xi's visit brought more concrete gains. Chinese firms have ordered 300 aircraft from Boeing, worth a total list price of $38 billion. The company also announced that it will open its first offshore production facility in China – a move that triggered protests from U.S. employees who fear layoffs, though Boeing CEO Dennis Muilenburg has vowed the new plant won't cost U.S. workers their jobs. Microsoft also announced a spate of deals, including an arrangement with China's search engine giant, Baidu, in which Baidu will become the default search engine for Chinese users of Microsoft's new browser.
Xi toured both the Boeing factory in Everett, Washington and Microsoft's Redmond campus on Wednesday.