Have the Taliban Sorted Out Their Differences?
Mullah Omar's brother and son have sworn their allegiance to Mullah Mansoor. Are the Taliban back in business?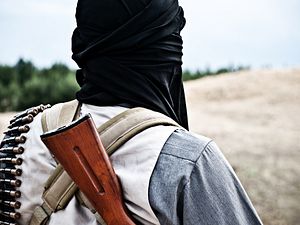 After the Taliban confirmed the death of their erstwhile leader and Amir al-Mumineen (Commander of the Faithful), Mullah Omar, it appeared that the group would tear apart at the seams. Omar's successor, Mullah Akhtar Mansoor, appointed by a shura early August, proved to be a polarizing figure. The Taliban, it appeared, had a succession crisis on their hands. Now, however, the group may have smoothed over the main source of tension with regard to Omar's succession. Omar, who had led the Afghan mujahideen since the 1980s, had left behind a legacy in his son, Mullah Yaqub, who quickly acquired his own followers. Yacub, who was rumored to have been killed in early August, now appears to have pledged his allegiance to Mansoor, possibly resolving one of the major rifts within the Taliban.
In an Arabic-language statement released on the Taliban's website, Yacub and Manan, Omar's brother, pledge their allegiance to Mansoor. Manan and Yacub called on "all the mujahideen brothers … especially those who delayed the oath of allegiance because of delay allegiance of our family" to follow their lead and also pledge their oath to Mansoor. Manan and Yacub had reportedly walked out of the shura that declared Mansoor, a long-time confidant to Omar, the group's new Amir al-Mumineen. "I stand with my nephew," Manan had said at the time. "There should be a (grand council) so everyone has a chance to choose their own leader. I do not accept this selection of Mullah Akhtar Mansoor because only a few chose him," he added at the time.
Yacub and Manan's decisions to swear fealty to Mansoor are significant as they may prevent a longer-term schism within the Taliban rank-and-file. Still, the circumstances surrounding Omar's death and the fact that the Taliban chose to conceal it for over two years left many Taliban militants exasperated with the new leadership. In fact, to stem a broader crisis, the Taliban leadership, in its official biography of Mullah Mansoor, justified their decision to keep Omar's death a secret, noting that they chose to do so because of "the fact that 2013 was considered the final year of power testing between the Mujahidin and foreign invaders who in turn had announced that at the end of 2014, all military operations by foreign troops would be concluded."
Mansoor may succeed yet at getting a critical mass of Taliban militants to accept his authority and claim to the mantle of Amir al-Mumineen. With oaths of allegiance from Yacub, Manan, and even Ayman al-Zawahiri of al-Qaeda, there remains no other real locus of control or authority within the Taliban power structure that can challenge Mansoor. For the moment, it appears that the Taliban may not be on the cusp of destroying itself after all.