India and Iran: Challenges and Opportunity
The nuclear deal opens the door for India, but its neighbors have their own plans.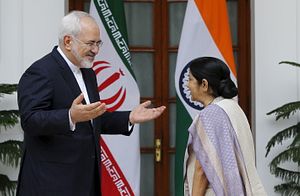 The strategic map of Iran's immediate neighborhood will change dramatically following the landmark nuclear deal between Iran and the P5+1. Given the tremendous geostrategic stakes involved, Iran has already begun to explore greater opportunities for economic and security cooperation in the region. This has implications for both India and Pakistan, which are tied to Iran strategically but bitterly opposed to each other.
Per the realist prescription of international relations, survival in an anarchic world requires all states to adopt certain rational behavior, such as power maximization and balancing strategies. Depending to a large extent on their worldviews, all state leaders translate their perceptions of locational advantages and vulnerabilities into geopolitical strategies. Revolutionary rhetoric apart, Iranian decision-makers have conducted their foreign policy, more or less, in a realist manner by weighing costs and benefits. If implemented, the nuclear agreement will surely mark the start of a new age of Asian geopolitics. Iran is preparing itself for a wider and internationally legitimized regional role in which it can act pragmatically to enhance its reputation and take advantage of commercial opportunities wherever it finds them.
Iran has the world's second-largest reserves of natural gas, yet it is not a major exporter. It has been very eager to enter the market in a big way. However, Iran has several challenges to overcome before it can become an energy supplier to Europe and Asia. For one thing, Iran's energy infrastructure – long neglected as a result of Western sanctions – requires major upgrades to make it capable of sustained energy exports. This will require massive foreign investment.
India-Iran Interactions  
India and Iran have always shared deep social, cultural, economic and political connections and relations that have enriched both civilizations. The use of the Persian language at the Mughal courts is just one example of Iranian cultural influence in north India.
With the creation of Pakistan in 1947, India and Iran lost the geographical contiguity they had enjoyed for centuries. The Cold War saw a period of turbulent relations between the two countries, as the Shah of Iran allied his country with the U.S., whereas India preferred to remain non-aligned. However, the end of the Cold War and the death of Supreme Leader Ayatollah Khomeini opened a window of opportunity for India to clear away misunderstandings and upgrade its relationship with Iran. Islamic ties with Pakistan notwithstanding, Iran began to cultivate a strong relationship with India. Bilateral relations also remained extremely cordial during Iran's years of global chastisement for its nuclear program, with the exception of a short period during which India was unable to deal with the dynamic of Iran-U.S. divergence.
Overall, India's diplomacy with Iran has been rooted in economic interests and buttressed by civilizational links. New Delhi's contemporary cooperation with Tehran is mainly premised on India's energy security, access to Afghanistan and Central Asia, and its enduring rivalry with Islamabad. It is worth emphasizing that India's interests in Central Asia are substantial, and it needs to bolster its presence in the region. New Delhi's desire to reclaim for India the influence and cultural relations it once enjoyed with the countries of Central Asia before the dawn of colonialism can only be reasonably realized through Iran. India and Iran also share many similarities: Extra-regional ambitions and a strong sense that they pursuing an independent foreign policy are common traits in the diplomatic behavior of both countries. Moreover, Indo-Iran relations have a domestic political dimension as well. India's large Shia population has been an important variable in India's interaction with Iran.
India stands to be a major beneficiary of the Iran nuclear deal. New Delhi has been vigorously pursuing the Iran–Pakistan–India (IPI) gas pipeline project for the last decade. The operation of the IPI project would be reinforced by the trilateral "Framework Agreement," in which the three governments would be committed to the provisions of the Energy Charter Treaty. The ownership of the project by an international consortium and the fact that Pakistan itself would be a major consumer of the gas would greatly restrict its ability to tamper with the pipeline.
The IPI – which could have included Chinese and Russian participation – stalled under pressure from the U.S., which prodded India into working towards an alternative gas transport line from Turkmenistan via Afghanistan and Pakistan. Hillary Clinton, then U.S. secretary of State, has disclosed in her book Hard Choices that the main purpose of her short visit in May 2012 was to convince India to reduce its reliance on Iranian oil. Obligingly, India subsequently downgraded its commercial ties with Iran.
India has found it difficult to balance the imperative of improving its ties with the United States with the need to have a sound relationship with Iran. Now, New Delhi has given clear indications of its plans to resurrect the Iran-Pakistan-India gas pipeline project.
Several factors will doubtless push India and Iran to warmer ties. For instance, there was a time when Iran and Russia cooperated with India in strengthening the Northern Alliance's resistance to the radically fundamentalist Taliban movement with its anti-Shia and anti-Iran tendencies. With territory from Pakistan to the Mediterranean becoming home to some of the most vicious jihadi terror groups, with global, national and regional linkages, India and Iran could well be motivated to return to cooperation in tackling the threat of terrorism.
Chabahar port, which is a symbol of Indo-Iran economic and strategic cooperation, will give India access to Afghanistan, bypassing Pakistan entirely. Chabahar port is also linked to India's receiving natural gas imports from Iran, as the port would also serve as the point of origin for the proposed Iran-Oman-India pipeline. India's strategic thinkers also view the port as a strategic counterweight to China's pursuit of a port in Pakistan's Gwadar.
Nonetheless, there are differences and misperceptions between India and Iran, some major and others inconsequential, just as there are similarities and shared interests. India is going to face some unpleasant realities about its most fundamental policy departure: a negative vote at the International Atomic Energy Agency (IAEA) against Iran's nuclear record.
There are valid reasons to suspect that Iran might not show too much enthusiasm in responding to India's economic or strategic overtures. Inevitably, as so often in international politics, there is a temptation for states to be on the "right side" of a thorny issue. India was faced with what looked like either/or question on Iran's nuclear program. It was the outcome of Indian policymakers' failure to conceptualize a grand strategy went beyond narrowly defined national interests. How can New Delhi be sure now that Tehran will overlook India's vote at the IAEA? Will a "realist" Iran opt for the long-term benefits of mutual cooperation? A lot depends on what counts as "long term" in Iran's strategic calculations.
When Americans and Europeans are more than willing to resume business with Iran, will Tehran give priority to rebuild its economic ties with India? India will certainly face stronger opposition from technologically advanced American, European, Russian and Chinese companies as far as investing in Iran is concerned. Another regional dynamic that may force India to moderate its ties with Iran is the undeniable fact of India's deepening engagement with Israel and the states of the Gulf Cooperation Council.
Challenge of Iran-Pakistan-China Ties 
Iran and Pakistan seem poised for a more balanced and cooperative relationship than has been the case to date. With the potential decline of its importance to American objectives in the context of U.S. outreach to Iran and the drawdown in Afghanistan, Pakistan has every reason to assume that antagonizing an Iran whose geopolitical stock will soon rise would be strategically counterproductive. In fact, Pakistan's rapprochement with Iran is an outcome of a strategy that has been well thought through. To maintain neutrality in the Iran-Saudi tussle, Islamabad has already decided to distance itself from the regional sectarian war. The issue of stability in Afghanistan has brought Iran and Pakistan together: Iran has expressed support for the reconciliation process in Afghanistan, in which Pakistan has been playing the role of mediator. The threat emanating from the Islamic State is being seen as a challenge by both Iran and Pakistan. Visiting Pakistan in August, Iranian Foreign Minister Javad Zarif called on Islamabad to work in unison to eradicate sectarianism, terrorism and extremism. Thus, both countries would like to avoid the revival of former animosity as neither stands to benefit from it.
Meanwhile, China's energy needs have become an economic lifeline for Iran. Growing bilateral ties reflect this reality. China accounts for approximately 50 percent of Iran's total crude oil exports. China relies on Iran for a tenth of its foreign energy imports. Burgeoning energy ties between Tehran and Beijing have stimulated a deeper strategic alignment.
Since China shares disputed borders with India, realists would predict that the potential for conflict between India and China over influence in South Asia, Southeast Asia, the Indian Ocean region, and Central Asia remains alive as long as China continues to meddle in India's northeast and Kashmir, whether directly or indirectly, by seeking to use Pakistan as a counterweight to India. Demand for energy resources in India and China is also a potential trigger for a clash of interests between the two countries, generating more competition for access to energy in resource-rich countries.
Iran as a net exporter of energy would like to parlay its resources into influence in its relationships with India, Pakistan and China without getting entangled in their bilateral differences. The depth of the strategic bonds between Pakistan and China are well known.
Pakistan is a large and growing energy market, while China is vastly bigger again. Anticipating the lifting of sanctions on Iran, China has revived the Iran-Pakistan pipeline. Beijing signed an agreement with Islamabad in April 2015 to construct a pipeline from Pakistan's Gwadar port to Nawabshah. The Iran-Pakistan pipeline is expected to supply gas from Iran's South Pars field sufficient to generate 4,500 MW of electricity, covering Pakistan's current shortfall in power production.
Energy cooperation between Iran and Pakistan goes a long way to mitigating historical suspicions that have separated Shia Iran and predominantly Sunni Pakistan. The energy projects will not only alleviate Pakistan's crippling energy shortages but also produce hard currency for Iran's hard-pressed economy. Iran has already built its section of the pipeline to the Pakistani border. Pakistan will build the remaining 80 km of the pipeline from Gwadar to the Iranian border once sanctions on Iran are formally lifted.
The strategy being followed by China is well-crafted. Beijing is taking an extremely favorable view of the IP pipeline due to its geopolitical potential. The pipeline is sure to become a key component of China's ambitious Silk Road Economic Belt and Maritime Silk Road (OBOR) initiatives. The IP pipeline agreement is also a part of a $46 billion infrastructure package to establish the China-Pakistan Economic Corridor (CPEC), being financed and constructed by Beijing. The CPEC, which is aimed at building critical infrastructure that could kick-start economic growth, will extend from Pakistan's Arabian Sea Port of Gwadar to China's Kashgar city in Xinjiang province, one of the principal launching points for China's OBOR initiative. Iran has shown interest in extending the Pakistan gas pipeline to China. How can India be expected to compromise its opposition on CPEC when Punjab and Jammu & Kashmir continue to be hit by gunmen from across Pakistan?
India's Options
For India, energy pipelines have always been an attractive prospect whose advantages are seemingly tangible but always just out of reach. India has felt constrained by its lack of land access to energy-rich Central Asia, hemmed in as it is by China and Pakistan. With the Iran-Pakistan-India (IPI) pipeline still stuck and the Turkmenistan-Afghanistan-Pakistan-India (TAPI) pipeline yet to take off as the countries have failed to appoint a consortium leader that will build and maintain the line, India is very keen to kick-start an undersea pipeline project that would bring Iranian gas to India via the Arabian Sea, bypassing Pakistan. The Associated Chambers of Commerce & Industry of India has also said: "Lifting of western sanctions on Iran throws up a great opportunity for India to transport natural gas from Iran to Porbandar port in Gujarat, bypassing Pakistan – the main sticking point for other multilateral projects of Turkmenistan-Afghanistan-Pakistan-India (TAPI) and Iran-Pakistan-India (IPI)."
Iran's geographical position provides an excellent opportunity for oil and gas pipelines to run from the Caspian Sea to the Persian Gulf and the Gulf of Oman. In fact, only the Iran route offers India both an alternative to unresolved conflict and tension with Pakistan as well as the opportunity to overcome India's geographic isolation from energy-rich Central Asian region. That is why Indian Prime Minister Narendra Modi, during a recent visit to Turkmenistan as part of his Central Asian tour, suggested an alternative land-sea route via Iran for transporting Turkmen gas to India. This route could be a turning point for India's energy security. New Delhi's efforts to secure the Iran-Oman-India pipeline can be interpreted as a smart diplomatic gesture aimed at China's latest agreement with Pakistan to construct most of Pakistan's segment of the Iran-Pakistan pipeline as well India's desire to reverse the economic and strategic setbacks that New Delhi suffered from its withdrawal from the Iran-Indian-Pakistan pipeline.
New Delhi seems to have realized that Central Asia is going to be the scene of renewed great power rivalry, and India must act, not as a mere spectator, but as a leading player. However, its calculations are fluid and subject to relations with other powers, particularly with Iran. Modi's recent visit to UAE also underlines the fact that India is playing a delicate balancing game in the region that takes a host of factors into account.
In the coming years, Pakistan and China will certainly intensify their efforts to "integrate" Iran into their strategic vision of the emerging regional order, as this will enable them to inflict high-leverage strategic harm on India. Notwithstanding Iran's growing bonhomie with Pakistan and China, India must stay in close contact with Iran and consciously and consistently pursue good diplomatic and economic relations with it. India needs to remind Iran that Pakistan has become a country where political stability remains very fragile. Even though Pakistan is being ruled by a democratically elected government, security and foreign policy is utterly dominated by the military.
India should not hesitate to ask Tehran if it can trust Pakistan as a partner in the fight against terrorism when the Pakistani military is prone to view jihadist and violent extremist groups as a means of counterbalancing India and as a safeguard against an American exit from Afghanistan. Confirmation of the death of Taliban's supreme leader, Mullah Omar, has confused an already muddled scenario in Afghanistan, where rival Taliban factions are fighting for supremacy and regional support for the reconciliation process is moving onto the back burner. The Taliban still represents a grave threat to regional stability and security. Iran cannot realistically hope to evade the dangerous repercussions of anti-Shia Taliban returning to power in neighboring Afghanistan, particularly when Pakistan has not been able to deliver on the grand promises made to Afghan President Ashraf Ghani.
Vinay Kaura is an assistant professor in the department of International Affairs and Security Studies, and Coordinator at the Centre for Peace and Conflict Studies, Sardar Patel University of Police, Security and Criminal Justice, Jodhpur, Rajasthan, India.