Can China's Investments Bring Peace to Pakistan?
China pledges $28 billion to projects in Pakistan, not in spite of but because of security concerns.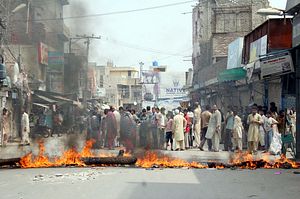 Chinese President Xi Jinping made his first state visit to Pakistan this week, after a trip planned for last September had to be postponed due to protests in Islamabad. With Xi in Pakistan's capital, the typical lofty rhetoric of "iron brothers" and "all-weather partners" was on display. Billboards in Pakistan welcomed Xi to the country and praised China and Pakistan's traditional friendship, describing it as "sweeter than honey and stronger than steel."
While the rhetoric is old, there's a new element to the relationship — a renewed commitment to the China-Pakistan Economic Corridor (CPEC). The idea was first proposed by Chinese Premier Li Keqiang, during a visit to Pakistan in May 2013, but didn't really gain steam until after China unveiled its much more ambition plans for a inter-continental Silk Road in the fall of 2013. With the "One Belt and One Road" a major focus of Chinese diplomacy in 2014 and 2015, the CPEC has also grown in importance. Chinese officials have called the CPEC a "flagship project" of the One Belt, One Road plan, pointing out that the CPEC provides a link between the overland Silk Road Economic Belt and the Maritime Silk Road (through Gwadar Port).
As expected, the CPEC was high on Xi's agenda during this trip. Xi listed "four key areas" for advancing the project – "Gwadar Port, transport infrastructure, energy, and industrial cooperation." Accordingly, it was announced during Xi's visit that Pakistan will receive the first investment from the new Silk Road Fund, a $40 billion fund unveiled last December with the sole purpose of financing One Belt, One Road-related projects. "It has a significant meaning for a China-Pakistan energy cooperation project to be chosen as the first investment project of the Silk Road Fund since its establishment," Xi said this week.
The Silk Road Fund will provide 10 billion RMB ($1.6 billion) for China Three Gorges South Asia Investment Ltd. to develop the Karot hydropower project. According to Dawn, which reported on the initial awarding of the contract to China Three Gorges back in March, the 720 megawatt project will be built on the Jhelum River in the Rawalpindi district. The project is expected to be linked up with Pakistan's electricity grid in 2020.
The Karot project is just the tip of the iceberg – China and Pakistan inked deals worth $28 billion during Xi's visit, all related to CPEC. Pakistani officials have said they expect a total of $46 billion in funding to eventually result from arrangements made during the state visit.
The major focus for now is on energy and infrastructure construction, with the majority of this round of funding going to energy projects. According to Reuters, China has offered $10 billion in concessional loans for infrastructure projects, but up to $37 billion in funding for energy projects in Pakistan. Pakistan faces regular energy shortages, which contribute to unrest in the country. The Wall Street Journal, citing Pakistan's Minister for Planning, Development and Reform Ahsan Iqbal, said deals signed during Xi's visit would open the door for projects totaling 8,400 megawatts of electricity.
Clearly, China is willing to put serious cash in to CPEC, but the wild card will be whether the security situation in Pakistan will ever allow those investments to bear fruit. The planned route for the CPEC will involve major work in restive Balochistan province, where Gwadar port is located. Rebels in the region are keen to deter any infrastructure work; last month, the Balochistan Liberation Front attacked construction workers, killing 20.  Another attack at an airport in Gwadar district took place on Monday, timed to coincide with Xi's arrival in Pakistan.
China is not blind to these security concerns. On Monday, Chinese Foreign Ministry spokesman Hong Lei noted that "bilateral cooperation in security and economic fields should advance in parallel and reinforce each other." According to AFP, Pakistani President Mamnoon Hussain has promised that a special army division will be tasked solely with protecting Chinese workers in Balochistan.
Yet as Andrew Small, author of The China-Pakistan Axis, points out, it's precisely because of these security concerns that China is so committed to developing the region. "China is certainly not completely confident that all the projects will be protected, but they think these security problems are one of the main reasons that it's so important that they move ahead, for the sake of Pakistan's stability," he told AFP. Unrest in Pakistan has a negative influence on China's own security, particularly in Xinjiang. Beijing hopes that by boosting economic development, it ban bring stability to its neighbor.
Xi himself was all optimism during the visit. In a speech before Pakistan's parliament, he praised Pakistan's efforts to combat terrorism, saying the country is on the front lines of global anti-terror efforts. During Xi's talks with Pakistani leaders, both sides committed to "resolutely crack down on the Eastern Turkestan Islamic Movement," a Xinjiang-separatist militant group reportedly based within Pakistan.