It's Official: China's President to Visit US From Sept. 22-25
How does Xi's four day trip, with stops in Seatlle, DC, and New York, compare to other visits by Chinese leaders?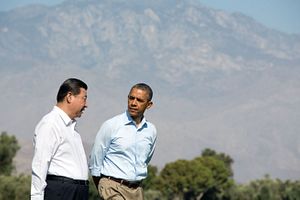 It's official: Chinese President Xi Jinping will pay a state visit to the United States from September 22 to 25, China's Foreign Ministry announced on Wednesday. He will also travel to New York to take part in the UN General Assembly and the celebration of the UN's 70th anniversary from September 26 to 28.
The White House also confirmed that U.S. President Barack Obama will host Xi for an official state dinner on September 25. Xi is not expected to arrive in Washington D.C. until September 24 – he will spend the first two days of his visit in Seattle, meeting with business executives. After two days in Washington, D.C., he will leave for New York on September 26. His speech before the UN General Assembly is scheduled for September 28.
Now that Xi's schedule is set, how does his itinerary stack up to other visits by Chinese presidents?
President Jiang Zemin (in office from 1993-2003) paid two official visits to the United States in 1997 and 2002. His 1997 state visit was the longest ever by a Chinese president – it lasted from October 26 to November 3 and spanned seven cities (Honolulu, Hawaii; Williamsburg, Virginia; Washington, D.C.; Philadelphia, Pennsylvania; New York City, New York; Boston, Massachusetts; and Los Angeles, California).
Jiang's trip was the exception rather than the norm. As the first state visit by a Chinese president in 12 years, it was purposefully designed to be a grand tour of the United States – and to celebrate the rebirth of the U.S.-China relationship after the chill cast by the Tiananmen Square incident.
More typical was Jiang's "official working visit" to the U.S. from October 22-25, 2002 (the same length as Xi's upcoming state visit). On his 2002 trip, Jiang visited Chicago, Illinois and Houston, Texas in addition to Crawford, Texas, where he met with then-U.S. President George W. Bush.
Hu Jintao (president from 2003-2013) made his first official visit (not, to China's chagrin, a state visit) to the U.S. in 2006, visiting Seattle, Washington; Washington, D.C.; and New Haven, Connecticut from April 18-21. Hu's lone state visit to the United States didn't come until 2011, when he spent four days (January 18-21) in the United States and only visited one other city – Chicago – in addition to Washington, D.C.
Oddly enough, Xi's first state visit to the U.S. won't be his longest trip. In February 2012, while Xi was still vice president (but known to be China's leader-in-waiting), he spent five days touring the U.S. In addition to meeting with both federal and local government officials, Xi's visit was carefully crafted to allow him to meet with the American public, including his former hosts in Iowa, where Xi stayed briefly in 1985 as part of an exchange program. In addition to stops in Muscatine and Des Moines, Iowa, Xi visited Washington, D.C. and Los Angeles, where he attended a Lakers basketball game and met American children studying Mandarin Chinese.
In June 2013, Xi also famously met with Obama at the Annenberg Retreat in California. The two presidents spent two days together in a deliberately casual "shirt-sleeves summit."
Placed in context, Xi's visit is par for the course. Aside from Jiang's 1997 visit – which was designed to be more extensive than a typical visit – Chinese presidents have typically spent around four days in the U.S. on official or state visits, with stops in three to four different cities. In fact, Xi's upcoming visit is nearly identical in its scheduling to Hu's 2006 trip: two days in Seattle, two in Washington, D.C., and a quick wrap-up in a northern city (in Hu's case, New Haven; Xi will of course be traveling to New York City for the UN General Assembly).
There's even clear precedent for Xi's attendance at the UNGA, his first time taking part in the assembly since assuming office. Both Jiang and Hu also attended UN General Assemblies in their third year in office (1995 and 2005, respectively), the 50th and 60th anniversary years of the UN. In addition, both Jiang and Hu delivered speeches before the assembly, as Xi will do; neither of Xi's predecessors, however, combined their UN speeches with official trips to the United States.
Xi's schedule may be typical, but the diplomatic context has changed. Rather than human rights issues and Taiwan, the major focus for Xi's trip is on new flashpoints: cyber issues and the South China Sea.