Malaysia Eyes New Border Security Agency
Deputy prime minister says the country wants to get serious about policing its borders.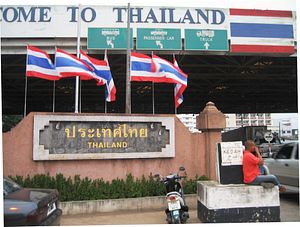 Malaysia is eying the creation of a new government agency to better protect the country's borders, its deputy prime minister announced Thursday.
Opening a seminar at a Malaysian university, Deputy Prime Minister Ahmad Zahid Hamidi, who is also the country's home minister, said Malaysia is looking to create a new entity called the Border Security Agency. The proposal for a Border Security Agency, Zahid said, is significant because it would effectively constitute an upgrade for Malaysia's current Anti-Smuggling Unit (UPP).
The move comes amid heightened concerns about transnational crime along the borders of the Southeast Asian state, including the rampant smuggling of weapons, drugs and people. In May, the issue sparked international furor following the discovery of mass graves in jungle camps in Malaysia near the border with Thailand used by suspected smugglers of Rohingya Muslims from Myanmar (See: "Can Southeast Asia Tackle its Human Trafficking Problem?").
Zahid himself indicated that Malaysia loses up to 7 billion ringgit a year due to its porous national borders, including losses on subsidized goods. Furthermore, he noted that the value of smuggled goods confiscated from January to August – everything from cigarettes and liquor to smuggled vehicles – had more than doubled to 38 million ringgit from 18 million in 2014 and 17 million in 2013.
According to Zahid, the Border Security Agency would involve three core agencies – the Royal Malaysian Police, the Royal Malaysian Customs Department, the Immigration Department – along with several other enforcement agencies. The creation of the new agency, he said, would help "streamline the collaboration of all agencies to stop the flood of immigrants, smuggling and human trafficking." However, he also clarified that even with the upgrade, there will be no additional allocations or new posts created to boost Malaysia's overall capabilities.
As I have written before, while boosting border security and enhancing interagency cooperation both within Malaysia and with other border countries like Thailand are welcome steps, truly addressing the trafficking problem also means tacking the "human" dimensions of the problem, including corruption.
For instance, in June Malaysia's police intelligence agency noted in a report compiled over ten years that a startling 80 percent of law enforcement officers in Malaysia's borders were corrupt, with many of them directly involved in smuggling drugs, weapons, and people (See: "US Upgrades Malaysia in Trafficking Report: Boost for TPP, Blow to Rights?").
The policy paper on the creation of the Border Security Agency, Zahid said, has already been prepared and will be submitted to the cabinet for approval.