Tajik Leader in China, Building Roads
Dushanbe needs Chinese investment to fix its deteriorating highway system.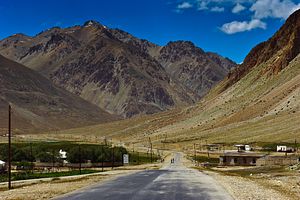 Like his Kyrgyz and Kazakh counterparts, Tajikistan's president Emomali Rahmon is getting his share of time with the Chinese President Xi Jinping this week and working to secure Chinese investment in a variety of ventures–from roads and railways to cherries and gold.
"For Tajikistan, China remains a reliable ally and economic partner, a friend and a good neighbor," Rahmon said, state press agency Khovar reported.
The two leaders signed a triplet of agreements on the development of a cooperation framework, increased cooperation in technical and economic fields, and one a cultural exchange program. The State Savings Bank of Tajikistan (Amonatbank) and the China Development Bank signed an agreement and an agro-industrial complex is being planned between Khatlon region and Henan province. Meanwhile, a delegation from the People's Bank of China (PBOC) has been in Dushanbe, discussing a $500 million loan with the National Bank of Tajikistan, AKIpress reports.
Economically, China is more important to Tajikistan than Tajikistan is to China. According to data compiled (and visualized) by MIT's Observatory of Economic Complexity tool, China is responsible for 45 percent of imports into Tajikistan, followed by Russia (18 percent) and Kazakhstan (14 percent), meanwhile Tajik exports find their way to markets mostly in Turkey (37 percent) and then China (11 percent). While data from the CIA World Factbook is slightly different, China still leads in imports by a large margin.
Tajikistan is a member of the Shanghai Cooperation Organization (SCO), one of a constellation of multilateral organizations that crisscross Asia. The SCO is notable, perhaps, because it brings China and Russia together via Central Asia–a powerful tool of regional engagement for both parties. For the Chinese, Tajikistan is one of many partners across the region–a piece of its grand One Belt, One Road strategy, but Tajikistan's bad roads need to be fixed if the country is going to serve as the sort of crossroads China wants.
As Kyrgyzstan hails Chinese investment directed at reconstructing roads in Bishkek, Tajikistan is looking for Chinese money to finance work on the highway that runs across the country, the "Dushanbe-Kulyab-Khorog-Kulma-Karokurum" highway. This may reference Asian Highway 66 (AH66) as well as parts of the famous Pamir Highway. AH66 runs from Dushanbe to Xinjiang, crossing the border at Kulma Pass–the only overland route between Tajikistan and China–and connecting to the Karakoram highway that runs north-south from China into Pakistan. According to the United Nations Economic and Social Commission for Asia and the Pacific (ESCAP)–which manages the Asian Highway project–Tajikistan has 978 km of class II roads. Class II roads are two-lane highways. The country has only 20 km of Class I roads, which are roads with four or more lanes.
Also mentioned in the meeting between Rahmon and Xi was the China-Kyrgyzstan-Tajikistan-Afghanistan-Iran railway. In December, experts from the five parties involved met in Dushanbe to define the railroad's route from Kashgar in China to Herat, Afghanistan, where it would link to the Iranian rail network.
According to Khovar's report, Xi said China would "continue to to strive for the development of neighboring Tajikistan" with special emphasis on the new Silk Road and Tajikistan's three strategic objectives: "achieving energy independence, food security and pulling the country out of the communication deadlock."
The phrase "communications deadlock" appears in a 2010 strategy announced by the Tajik government to improve the country's transit connectivity. The strategy's core point was building out the country's transport network–roads and rails–and connecting them to international transit corridors.