US, China Hold Cyber Talks Before Xi's Visit
A delegation of Chinese officials visited the U.S. for talks on cybersecurity issues.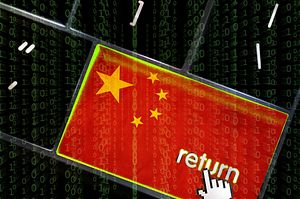 From September 9-12, Chinese officials visited the United States as part of a series of visits to prepare for Chinese President Xi Jinping's upcoming trip. This visit, led by Meng Jianzhu, the secretary of the Central Political and Legal Affairs Commission of the Chinese Communist Party, was particularly noteworthy as it focused on one of the main points of friction between the U.S. and China: cyber affairs.
China's Foreign Ministry spokesperson Hong Lei announced on Monday that Meng's delegation consisted of "leading officials from the Ministry of Public Security, the Ministry of State Security, the Ministry of Justice and the Cyberspace Administration of China." The officials met with U.S. Secretary of Homeland Security Jeh Johnson (Meng's official host), as well as Secretary of State John Kerry and National Security Advisor Susan Rice. A White House statement said that Meng and the delegation also met with "representatives from the Departments of State, Treasury, Justice, Federal Bureau of Investigation, and the intelligence community," including FBI director James Comey.
The White House said Meng "traveled to Washington as President Xi Jinping's special envoy to discuss cybersecurity and other issues." The statement said Meng and Rice in particular had had a "frank and open exchange about cyber issues."
China's Foreign Ministry said that Meng called for "strengthening mutual trust and cooperation in the cybersecurity field." Meng also reiterated that China "resolutely opposes cyber attack and cyber espionage," and promised that "whoever carries out cyber attack and cyber espionage in China violates the national law and will be held accountable by law." Notably, the Chinese Foreign Ministry summary of the discussions contained no counter-accusations about U.S. hacking activities against China.
China's state new agency, Xinhua, reported that China had "reached [an] important consensus with the United States on combating cyber crimes" after Meng's visit.
Cyber issues promises to be a focus of Xi's trip to the United States next week. Media reports indicate that the Obama administration is considering implementing sanctions against Chinese companies and individuals believed to be responsible for hacking attack against U.S. firms. The reported sanctions package would keep in place the line Obama has attempted to draw between "legitimate" and illegitimate cyberespionage: namely that commercial targets (and hacking for commercial gain) are off limits. That means the sanctions would not directly address cyberattacks on government entities, such as the massive breach of U.S. government employee data stored by the Office of Personnel Management.
Obama reiterated his administration's commitment to cybersecurity on September 11, during a town hall meeting at Fort Meade (home of the National Security Agency and the U.S. Cyber Command). IN particular, Obama emphasized the need "to craft agreements among at least state actors about what's acceptable and what's not."
"We've made very clear to the Chinese that there are certain practices that they're engaging in that we know are emanating from China and are not acceptable," Obama said. He added that "one of our first and most important efforts has to be to get the states that may be sponsoring cyber-attacks to understand that there comes a point at which we consider this a core national security threat and we will treat it as such." The leaked reports of pending cyber sanctions against China are a public signal of how seriously the United States takes cyberattacks.
Meanwhile, Xi Jinping is expected to spend the first leg of his trip in Seattle, Washington, meeting with U.S. executives from Microsoft, Apple, and Cisco Systems, according to the Wall Street Journal. Xi's time in Seattle will also coincide with the eighth annual U.S.-China Internet Forum, although it's unclear if the Chinese president will attend. U.S. companies have expressed concerns to the White House about cyberattacks from China as well as Beijing's new cybersecurity law, which critics say will effectively edge foreign firms out of China's technology market. Those concerns will provide the context for the business-focused leg of Xi's trip.
Meng's delegation, then, is an attempt to prevent cyber issues from dominating the agenda during Xi's visit by holding talks in advance of his arrival. As Chen Weihua of China Daily put it, the recent talks are a sign "that both sides do not want [cyber issues] to spill into the overall bilateral relationship and impact negatively on the upcoming state visit to the U.S. by President Xi Jinping."