Pakistan and Syria: Rebuilding a Fractured Relationship
As the Arab World warms to Assad, how should Pakistan respond?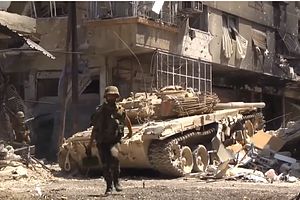 Slowly, but surely, Bashar al-Assad has managed to stage the most miraculous of comebacks. Long perceived to have been on borrowed time, the Syrian president has survived seven years of civil war and is now aiming for outright victory in a conflict which has left a significant portion of his country in ruins. Assad's reversal in fortune can be gauged by the fact that the Arab nations, which had once been the primary backers of the Islamist insurgency against his rule, now seem to have admitted defeat. Wary of the ever increasing Iranian influence in Syria, Arab nations began a series of diplomatic overtures, the first of which was Sudanese President Omar al-Bashir's visit to Damascus in December 2018. This was soon followed by the United Arab Emirates and Bahrain, both staunch allies of Saudi Arabia, reopening their embassies in Damascus and resuming diplomatic relations, which had been severed at the beginning of the crisis in 2011. Likewise, it looks probable that Syria will soon be re-admitted into the Arab League, as hope for a political solution to the conflict increases.
In spite of its historically close ties and "special relationship" with the Saudis, it is important to note that Pakistan has been reluctant to make itself a party in the Middle East's sectarian proxy war between Saudi Arabia and Iran. Although a Sunni majority state, Pakistan is home to the world's second largest Shia population, constituting almost 20 percent of the country. Therefore, any overt attempt by the Pakistani state to interfere in the Middle East's sectarian struggle on behalf of the Saudis could disrupt the country's fragile social fabric. In addition, Pakistan has limited its foreign policy concentration to its immediate geographic neighborhood, focusing instead on the promotion of a negotiated settlement to the Afghan war and attempting to divert world attention to the decades old Kashmir problem.
Pakistan's response to the outbreak of hostilities in Syria was cautious, as the South Asian country refused to jump onto the anti-Assad bandwagon and repeatedly made it clear that they opposed any foreign intervention to topple the Assad regime. Nevertheless, despite Pakistan's official position; extremist Sunni groups operating in the country's tribal belt dispatched contingents in support of factions fighting against the Syrian regime. On the other hand, Iran has also actively engaged in recruiting Pakistani Shia tribesmen from Parachinar, taking advantage of sectarian discord in the terror-hit region. More importantly, according to security expert Ali K. Chisthi, the Pakistani government was itself engaged in a covert operation to supply the Sunni rebels in Syria with advanced weaponry. In addition, former BBC journalist Nauman Naqvi has argued that Pakistan's role in the Syrian conflict is actually the outcome of the Pakistan Army's stranglehold over the country's foreign policy and defense issues. The Pakistan Army's rationale behind allegedly toeing the Saudi line over Syria goes back to historical monetary and diplomatic support which Pakistan received for its nuclear program, as well as a history of mutual defense cooperation, which included Pakistani Air Force support for previous Yemeni-Saudi skirmishes.
Interestingly, Pakistan also has a rich history of military cooperation with the Syrian government, which reached its zenith during the 1973 October War. As tensions escalated in the Middle East and fears of another Arab-Israeli war grew; Pakistan complied to President Hafez al-Assad's request for providing military assistance and training to the Syrian Armed Forces. Furthermore, the Pakistani Army maintained a strong presence outside Damascus, guarding the Syrian capital from a possible Israeli invasion attempt. Pakistan's intervention in the Arab-Israeli conflict was primarily driven by Prime Minister Zulfikar Ali Bhutto, who had forged friendships with Arab leaders, and envisioned a more assertive role for Pakistan in the Muslim world.The opening stages of the October War proved to be a success for the Arab armies, as they were able to breach the Israeli Bar-Lev line defenses and catch the IDF by surprise.
Thereafter, the Syria-Pakistan relationship took an immediate hit when Bhutto was toppled in the military coup of July 4, 1977. Bilateral relations deteriorated as the Syrian president insisted that Bhutto be spared the death penalty; a request that the Zia-ul-Haq-led military regime deemed to be an intervention in Pakistan's internal affairs. President Hafez al-Assad responded to Zia's snub by granting operational and military support to the "al-Zulfikar" organization led by Bhutto's sons, Murtaza and Shahnawaz. On March 2, 1981, the terror group succeeded in hijacking PIA flight 326, en-route from Kashmir to Peshawar. The hijacked commercial aircraft was diverted first to Kabul and then finally to Damascus, where the hijackers enjoyed treatment as official state guests. Al-Assad's overt sympathies with the al-Zulfikar and the cold reception which the Pakistani negotiating team received on arriving in Damascus, greatly strained Pakistan-Syria relations. The situation was stabilized in 1987, when Zia paid a surprise visit to Damascus and held a one-on-one meeting with President Hafez al Assad. Bilateral ties have remained cordial since then, with Pakistan supporting the Syrian position over the disputed Golan Heights, as continued trade between the two countries.
India, which is Pakistan's primary regional rival, has of late attempted to expand its strategic influence in the Middle East. Unlike Pakistan, whose relationship with Iran has gone sour; India has been able to successfully maintain and enhance cooperation with all major players in the region. India's outreach to the Middle East, a region where Pakistan has historically been an influential actor, poses difficulties for the Islamic Republic, already under considerable international pressure for allegedly providing safe havens to terrorist outfits. More worryingly for Pakistan, India's engagement with the Middle East is driven not only by oil; rather, it has expanded to include defense and security cooperation as well. Of particular importance is the 2018 agreement between Oman and India, which grants India access to the Port of Duqm for military purposes. Likewise, in May 2016, India's Defense Minister visited the UAE and the two countries agreed to enhance strategic cooperation, declaring the start of a "Comprehensive Strategic Partnership." Simultaneously, India's ties with Iran have also blossomed, and in December 2018, the Indians officially took over operations at the strategic Iranian Chabahar port. India has also made its position on the Syrian Civil War clear, opposing any foreign intervention against Assad's regime. In return, the Syrian government has backed India's attendance at the Geneva peace talks, aimed at finding a political solution to the conflict. Moreover, in perhaps the biggest diplomatic victory scored by the Modi-led BJP government in the Middle East; the Syrian ambassador to India, Dr. Riad Kamel Abbas, declared the Kashmir issue to be an "internal" Indian matter and noted that both India and Syria were victims of cross-border terrorism.
Hence, even though Pakistan and India have adopted similar official positions over the Syrian conflict, superior diplomatic maneuvering on the part of the Modi government has ensured that India reaps rewards for its stance on the Syrian crisis. The reasons for Pakistan's failure in this regard are numerous, but by far the most important is the chronic institutional ambiguity over who actually is in charge of the country's foreign policy. The hybrid nature of Pakistan's regime poses difficulties for actors in search of reliable partners and resultantly drives them to the Indian camp for support. Given the profound influence of the Pakistani military over foreign policy matters; it is therefore unclear whether Pakistan would be able to overcome such a fundamental problem.
Nevertheless, there exist numerous opportunities, as well as incentives, for Pakistan to rebuild its fractured Syria relationship and restore its historical role in the region. Firstly, more vocal Pakistani support in favor of Bashar al-Assad wouldn't necessarily strain relations with Saudi Arabia, as the GCC countries have themselves taken steps to normalize ties with the Syrian regime. Secondly, Pakistan's chief ally, China, already maintains a limited military presence inside Syria and views the country as a future partner in the much hyped Belt and Road Initiative. Given the rich history of China's relations with Pakistan, the Chinese have the potential to play a part in promoting greater engagement between Pakistan and Syria. Thirdly, due to increased military cooperation between Russia and Pakistan, as well as shared mutual interest in Afghanistan, it is expected that bilateral ties would deepen even further in future. This would also have positive ramifications on Pakistan's relationship with Syria, as Russia remains Bashar al Assad's foremost ally and principal supplier of weaponry. Finally, both the Pakistani and Syrian militaries have much to gain through greater cooperation in counter-terrorism operations. The Pakistani military has achieved considerable success in its fight against Jihadist insurgents, and its battle hardened troops could provide valuable training and equipment to the Syrian Arab Army. Far from straining relations with Pakistan's GCC allies; such a move would be a welcome development as it would limit Syria's present dependence on Iran for training and military support.
The Syrian Civil War's endgame and the Arab nations' willingness to normalize ties with Bashar al-Assad thus presents Pakistan with an opportunity to expand its strategic reach and play a greater, more stabilizing role in the Middle East region. Instead of attempting to replace India in Syria; Pakistan should instead seek to cooperate with the Indians and not view Syria in terms of a zero-sum game. Although it is indeed possible for both India and Pakistan to benefit by promoting peace and working together for the reconstruction of Syria; history suggests that such a scenario is unlikely.
Ammad Malik is a defense and security analyst based in Lahore, Pakistan.