Seeking Diplomatic Balance, Nepal's New PM Dispatches Special Envoys to India, China
Prachanda is looking to balance Nepal's bilateral relationships with its two massive neighbors.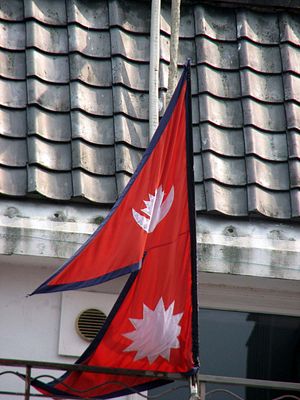 Nepal's newly formed government, led by Maoist Prime Minister Pushpa Kamal Dahal (known also as Prachanda), is looking to clear the air with the country's two giant neighbors, India and China.
On Monday, Prachanda dispatched a special envoy to China to convey continuity on a range of issues that had been discussed between Beijing and Kathmandu during the short-lived premiership of his predecessor, Khadga Prasad Oli.
Krishna Bahadur Mahara, a China expert, will go to China on behalf of Prachanda's government.  "There is no doubt that the new government will continue all positive agreements signed by the previous government," Mahara told Reuters.
Mahara's visit will pave the path for a visit by Chinese President Xi Jinping to Kathmandu this October.
Meanwhile, Bimelanda Nidhi will be dispatched to India to smooth over a historically strong bilateral that had grown unusually turbulent in the aftermath of a constitutional crisis in Nepal that began last autumn and carried through the bulk of Oli's premiership.
Nidhi, a member of the Nepali Madhesi community, a group with close cultural ties to India, will extend an invitation to Indian President Pranab Mukherjee to visit Kathmandu.
Nepal's ties with India are considerably stronger than its ties with China, resting on decades of shared history and a 1950 treaty of friendship. Nearly all of Nepal's trade with third countries traverses Indian territory, leading to concerns in Kathmandu that the country had grown overly reliant on maintaining cordial ties with New Delhi.
In late July, Oli failed to survive a vote of no confidence after Prachanda's Maoist party pulled its support for its government. Prachanda, in alliance with the Nepali Congress, a party historically close to India and Nepal's largest, is set to hold the prime ministership for nine months.
As I discussed earlier this month, the political turbulence in Nepal this summer has left China uneasy about the fate of the agreements that had been reached under Oli. Beijing's concerns were amplified when Prachanda sought Indian support for his prime ministerial bid.
Prachanda, however, is no stalwart pro-India politician. Indeed, during a previous stint as Nepal's prime minister, he expressed considerable skepticism toward the relationship, even calling for the treaty of friendship to be renegotiated.
With envoys set to travel to both Beijing and New Delhi, it appears that the new prime minister in town in Kathmandu is looking to maintain cordial ties with both of the small Himalayan nation's neighbors.
Above all, it appears likely that Prachanda will move ahead with the rapprochement with China initiated under Oli while attempting to assuage New Delhi's concerns that closer Nepal-China ties might foreshadow an inexorable decline in Indian influence in Kathmandu.
It's unclear if Prachanda's efforts at balanced diplomacy will be sustainable given that he is expected to yield the prime ministership to Sher Bahadur Deuba, the president of the Nepali Congress.
Deuba has also favored a balanced approach. In an interview with the Hindustan Times, he stressed that Nepal must "have good relations with our neighbours, India and China, and not use one against the other."