India to Lease Another Nuclear Submarine From Russia
New Delhi and Moscow are slated to sign a contract in December.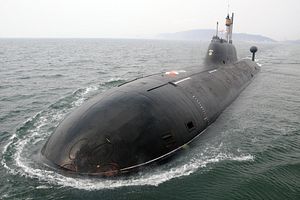 The Indian Navy will lease another nuclear-powered submarine from Russia, TASS reports. The 10-year lease agreement will likely be signed at the Russian-Indian summit in December, according to a source at India's Defense Ministry.
India's Defense Minister Manohar Parrikar will meet Russia's Defense Minister Sergey Shoigu next week in Moscow to discuss details.
"Parrikar will hold talks on this strategic project with his Russian counterpart Sergey Shoigu. After the ten-year contract is signed another two or three years will be required for upgrading the submarine in keeping with India's requirements," the source told TASS.
The Russian submarine likely to be handed over to the Indian Navy will be the Kashalot K-322 nuclear-powered attack submarine (NATO classification Akula II-class), a ship that has served in Russia's Pacific Fleet since early 1989 and is currently under repair.
The 8,140-ton Kashalot has a submerged speed of 30 knots and an operating depth of 530 meters. It holds a crew of 73 and is equipped with four 650 millimeter and four 533 millimeter torpedo tubes.  According to the website RusNavy.com, the submarine achieved a Russian navy record in the summer of 1991 by trailing foreign submarines for over 14 days without interruption.
The likely transfer date of the Kashalot will be in late 2018, given that it will take approximately three years to modernize and test the boat, as well as to train an Indian submarine crew for it.
The Kashalot would not be the first Russian submarine to enter the service of the Indian Navy. "If the contract is signed, it will be the third Russia-built submarine handed over to the Indian Navy," a Russian military source at the Russian embassy in New Delhi explained to TASS.
"For the first time India leased a Russian nuclear submarine for ten years back in the early 1980s. In 2012 the Indian Navy leased Russia's K-152 Nerpa submarine of project 971. This is a customary and well-tested way of cooperation by our countries in the military-technical sphere."
The K-152 Nerpa, rechristened INS Chakra, was inducted in March 2012.
The Indian Navy's first indigenously developed ballistic missile nuclear submarine (SSBN), INS Arihant, the lead vessel of the Indian Navy's future fleet of four (some media reports say five) Arihant-class SSBNs, is based on the Russian Project 971 Akula I-class nuclear-powered attack boats.
As I reported before, readiness rates within the Indian Navy's submarine fleet are below 40 percent. On paper, the fleet currently consists of 15 boats: nine Russian SSK Kilo-class (Sindhugosh), four locally-built SSK U209 Shishumar-Class, the leased INS Chakra SSN, and the INS Arihant.