A Second Russian Nuclear Attack Submarine for India?
India may be slated to take delivery of a second Russian nuclear attack submarine in the early 2020s.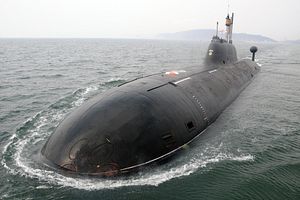 Earlier this week, Harsh Pant, one of our regular contributors here at The Diplomat, offered a helpful rundown of the current state of play between India and Russia, old Cold War-era partners that have seen a few recent bumps in their long-standing partnership. Russian President Vladimir Putin and Indian Prime Minister Narendra Modi met in Goa over the weekend, where India was hosting the leaders of the BRICS countries for their annual summit. On the sidelines, Delhi and Moscow concluded a range of important defense agreements. As Pant catalogued:
Russia and India signed a multi-billion dollar deal for S-400 Triumf long-range air defense missile systems, an agreement on building Project 11356 frigates for the Indian Navy, and setting up a Russian-Indian joint venture to produce Kamov Ka-226T helicopters – worth an estimated $10.5 billion.
In addition to the above, it appears that an important development apparently transpired behind the scenes and was not reported widely. Alexei Nikolski of Vedomosti reported on Tuesday that Russia has agreed to lease a second nuclear attack submarine (SSN) to India at a total cost of around $2 billion and that an agreement was signed in Goa. "According to a source in the Russian defense industry, the long discussed lease to transfer a multipurpose Project 971 nuclear submarine to India from the Russian Navy was signed in Goa," he writes.
Nikolski's report notes that, as expected, the Russian Navy will only transfer the next SSN after repairing and modernizing it, potentially making significant hull modifications to meet Indian specifications. India currently has an inventory of two nuclear powered submarines. The first and oldest is its Russian-made Akula-II-class SSN, dubbed the INS Chakra, which was commissioned into the Indian Navy in 2012. The second is the indigenously designed and built ballistic nuclear submarine (SSBN) the INS Arihant, which is also the third leg of India's nuclear triad. Incidentally, the Arihant was commissioned in August. The current time frame for India taking delivery of another Akula-II submarine point to the second SSN being commissioned sometime in the early 2020s.
Going back to 2014, Moscow had already said that it was ready to consider additional nuclear-powered submarines for lease. While the signing of an agreement remains unconfirmed by official sources, it wouldn't be entirely surprising if it took place in Goa as the Vedomosti report suggests. With China's People's Liberation Army-Navy progressively expanding its operations westward into the Indian Ocean region, the Indian Navy needs durable nuclear attack submarines, which are capable of operating for long periods of time without resurfacing.
Overall, India's long-term submarine construction plan envisages additional SSBNs of the Arihant class and a new generation of indigenously built SSNs. The $2.9 billion Advanced Technology Vessel (ATV) project that led to the Arihant greatly expanded India's know-how and comfort in constructing nuclear-powered submarines. However, while Delhi may have the technical expertise necessary, history suggests that bureaucratic delays and corruption could bog down its grand plans for an expansive subsurface fleet. In this sense, simply leasing a Russian SSN off-the-shelf with modifications makes sense as a hedge.
Finally, the conclusion of a deal for a second Akula-II between Delhi and Moscow serves to underline that the defense partnership between the two countries remains robust. Commentators in India and elsewhere have pointed to Delhi's decision to sign on to a military logistics exchange agreement with the United States and Russia's consequent decision to hold its first-ever military exercises with Pakistan as pointing to a fraying of the old defense partnership between India and Russia. For instance, Bharat Karnad, an Indian analyst, noted that Delhi would find that "valued Russian platforms like the Akula-II SSN … will be withdrawn" in the aftermath of the U.S.-India Logistics Exchange Memorandum of Agreement (LEMOA).
Even if, as Pant observed, Russia's bilateral relationship with China is causing it to rethink its support for India on the international stage more broadly, the defense relationship between the two countries remains robust.