India's 'Look West' Maritime Diplomacy
Recent developments show that India's attention is very much on the Indian Ocean.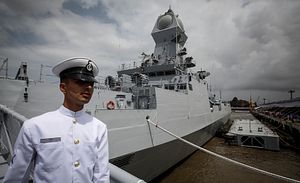 India's maritime diplomacy is most often associated with its naval outreach to East Asia. With an increase in naval ship visits to South East Asia in recent years, and attendant media speculation over New Delhi's supposed Pacific ambitions, the impression has been created that East Asia remains the ultimate destination of the Indian Navy's diplomatic endeavours. By contrast, New Delhi's nautical diplomacy in the Indian Ocean has seemed relatively modest. Despite its considerable contribution to sea-lanes security and counter-piracy operations off the coast of Somalia, in the popular imagination, the Indian Navy's security efforts in the Indian Ocean region have remained confined to the level of constabulary and benign presence.
Developments in the past few months, however, have shown that India's attention remains squarely focused on the Indian Ocean. Since February this year, when Prime Minister Narendra Modi visited Sri Lanka, Seychelles and Mauritius, making it clear the Indian Ocean littorals remained India's top priority, New Delhi has actively nurtured relationships with its maritime neighbours. Having improved the texture of its diplomatic ties, India has also sought to undertake joint developmental projects and strengthen a maritime security trilateral with Sri Lanka and Maldives through the inclusion of Seychelles.
New Delhi's maritime diplomatic efforts haven't remained limited to the cultivation of political relationships. In April this year, the Indian Navy scored one of its biggest diplomatic successes when it evacuated over 4000 Indians and 900 foreign nationals from war‐torn Yemen. Operation Rahat was seen as a credible illustration of the India's maritime peacekeeping and benign potential, more so because it was conducted amid an active conflict, amidst an unfolding humanitarian catastrophe.
The most significant dimension of India's Indian Ocean diplomacy, however, has been the outreach to Arab Gulf states, where the Indian Navy has embarked on program of sustained capacity building and security collaboration. Earlier this month, four Indian Naval ships – Trishul, Tabar, Deepak and Delhi – departed on a month-long deployment to the Arabian Gulf. After a three-day stopover at Dubai (UAE) the ships branched out into two groups. INS Delhi and INS Trishul proceeded to Al-Jubail (Saudi Arabia) and Doha (Qatar) where they engaged in coordinated drills with host navies. Meanwhile, INS Tabar and INS Deepak reached Doha after a brief visit to Kuwait, whereupon the combined contingent of four ships proceeded to Muscat for a final stop-over before returning to Mumbai.
It is a little known fact that the Indian Navy's Western outreach predates its diplomatic turn to the East. Since 2008, the Indian Navy has been partnering regional maritime forces in anti-piracy duties, providing critical support and training to Gulf Cooperation Council (GCC) navies. Through defence cooperation memorandums and joint committees on defence cooperation, it has substantially enhanced its operational synergy with Arab Gulf navies – many of them members of the Indian Ocean Naval Symposium (IONS), an initiative pioneered by the Indian Navy.
The naval engagement with Oman has been most notable. While India and Oman entered into a "strategic partnership" in 2008, naval cooperation has been on since 1993 in the form of a biennial exercise, Naseem Al-Bahr. India has provided naval training and hydrographic support to Oman, while Omani ships have been regular visitors at Indian ports. More significantly, Oman has played a key role in sustaining India's security efforts in the Gulf of Aden by offering berthing and replenishment facilities to Indian naval ships, and hosting a crucial Indian listening post in the Western Indian Ocean. With a new super-port project at Duqm nearing completion, Oman is poised to transform the maritime geopolitics of the Arabian Sea. An appreciation of its strategic potential has led New Delhi to cultivate stronger maritime ties with Muscat.
Importantly for India, the ongoing engagement with Arab navies hasn't been to the exclusion of a maritime relationship with Iran. A week prior to the ongoing tour of GCC countries, two Indian naval ships, Betwa and Beas, visited Bandar-e-Abbas. The Iranian Navy, which has long suffered from a "siege" mindset in the Arabian Gulf, is in the throes of a radical psychological transformation. Having acquired critical war-fighting capabilities, it has been gaining the confidence of a regional maritime power. Emboldened by their county's recent nuclear deal with the West, the Iranian naval leadership has also been on the look-out for new partners to support its naval agenda of establishing control over the Western approaches to the Arabian Gulf. India offers the most potential for such a partnership.
For maritime watchers, India's Arabian Gulf maritime strategy seems driven by two essential considerations. The waterways of the Northern Indian Ocean are among the most important in the world, facilitating the export of large volumes of goods, oil and natural gas. India is a principal beneficiary of the trade and energy flows through the West Asian littorals. The Middle East is also home to nearly 7 million Indians, whose remittances contribute significantly to India's economy. The sheer weight of market interaction and commercial exchanges with the Arab Gulf region amplifies its political significant, creating an urgent need for a greater Indian naval presence in the region.
Influence in the IOR
The more determinative factor is the preservation of India's strategic stakes in the Indian Ocean. With China continuing to make military inroads, the past few years have witnessed a shrinking of Indian geopolitical influence in the Indian Ocean Region (IOR). Reports of a new Chinese naval base in Djibouti, growing submarine visits, and a spurt in Beijing's maritime military activities in the Western Indian Ocean have created concern among India's security establishment. The nature of the recent submarine forays by the People's Liberation Army Navy suggests an aspiration for a standing security presence in the IOR.  For the Indian Navy, therefore, interaction with Gulf navies is a strategic measure aimed at retaining Indian influence in the IOR.
India's "Look West" diplomacy, however, is not all about Indian interests. The tour by Indian naval ships to the region came only a few days after Prime Minister Narendra Modi's visit to Abu Dhabi, the first by an Indian premier in 30 years. As India and the UAE announced a strategic partnership, many of the themes reflected upon in their joint statement were an expression of India's solidarity with the UAE (and more broadly Arab Gulf states). Prominent among these were human security, counter-terrorism, and regional defence. But the GCC's central concern still remains the security of energy shipments through regional chokepoints. With political tensions heightening the vulnerability of the Gulf's vital waterways, the joint statement affirmed India's commitment to strengthening maritime security in the Northern Indian Ocean.
The Indian Navy's burgeoning ties with Arab Gulf navies demonstrate the utility of maritime power as a foreign policy tool. New Delhi's Indian Ocean diplomacy has shown that the political role of sea power remains as important as its wartime uses. While "hard-power" projection remains effective, the modern exercise of "soft power" through "hardware" has no credible substitute. Through its Arabian Gulf initiatives, the Indian Navy has positioned itself as a reliable and supportive partner, forged lasting relationships, and helped shape the Indian Ocean's strategic environment.
More importantly, the Indian Navy has successfully created a durable template of maritime relations in the Western Indian Ocean. Its reassuring presence has validated India's capacity to protect Indian and regional interests, and provided evidence of a productive and dynamic maritime vision. In many ways, India's "Look-West" maritime diplomacy has been critical in rebalancing the Indian Ocean's emerging strategic narrative from "political contestation" to "collaborative development."
Abhijit Singh is a research scholar at the Institute for Defence Studies and Analyses and looks at Maritime Security in the Indian Ocean. He is co-author of the book Indian Ocean Challenges – A Quest for Cooperative Solutions.