Russia to Upgrade 12 Nuclear-Powered Subs
Moscow wants to expand the boats' service life by another 20 years.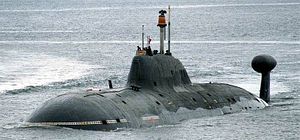 The Russian Navy is in the process of modernizing and overhauling 12 multi-purpose nuclear-powered submarines, IHS Jane's Navy International reports. In September, Russian Defense Minister Sergei Shoigu told reporters that six boats are already undergoing modernization at the Zvezda shipyard at Bolshoy Kamen on Russia's Pacific coast.
The six boats include project 971 SSN Akula-class, project 949A SSGN Oscar II-class, and Project 667 SSBN Delta III-class nuclear-powered submarines. In detail, the vessels at Zvezda are the Kuzbass and Magadan (both Akula-class), the Irkutsk, Chelyabinsk, and Tver (all Oscar II-class), and the Ryazan (Delta III-class).
All nuclear-powered submarines will be equipped with new weapon systems, including new missiles. The goal is to extend their service life by 20 years and to bring the boats up to the technological level of Russia's most modern nuclear-powered undersea vessels, such as the project 885 Yasen-class SSGNs.
While details about the refitting of the Akula-class and Delta III-class boats remains unclear, the Oscar II-class vessels will likely be re-designated Project 949AM. According to IHS Jane's Navy International, "Along with improved acoustic, electronic, navigation and communications systems, Project 949AM submarines are understood to be receiving NPO Mashinostroyeniya 3M55 Oniks (SS-N-26 'Strobile') anti-ship cruise missiles to replace their 3M45 Granit (SS-N-19 'Shipwreck') missiles."
Russian Admiral Viktor Chirkov, the navy's commander-in-chief, already announced in March 2015 that Russia intends to upgrade 10 multi-purpose nuclear-powered submarines by 2020, including project 945 Sierra I-class SSNs. He had also made previous statements to that effect in April 2014.
As I reported before (See: "Russia To Upgrade 10 Nuclear Submarines by 2020"), this delay can in part be traced back to a general lack of capacity within Russia's shipbuilding industry, but also to the ongoing conflict in Ukraine, which resulted in the end of defense cooperation with Kiev. One Oscar II-class sub undergoing upgrades caught fire back in April at the Zvezdochka ship repair center in the Arkhangelsk region in Northern Russia (See: "Russian Submarine Catches Fire").
Back in March I also noted:
In detail, one of the reasons for the modernization of the Akula, Sierra, and Oscar-class submarines are delays in the project 885 Yasen-class SSGN program. This class of Russian attack submarines was supposed to replace older Soviet-era multi-purpose nuclear submarine models by 2020.

Yet the exorbitant costs of the submarines — estimated to be twice as much as the new Borei-class SSBNs – has so far led only to the commissioning of one out of eight SSGNs, with a further three to four vessels likely to be completed by 2020. The Russian Navy is also already working on the next generation of submarines.
Between 40 to 70 percent of submarines are assessed to be unfit for service. Across the Russian fleet, only nine submarines in all categories are estimated to be operational, according to IHS Jane's Navy International.