Russia's Deadliest Subs to Receive New Heat-Seeking Torpedos
The Russian Navy expects the new weapon to be operational by 2017.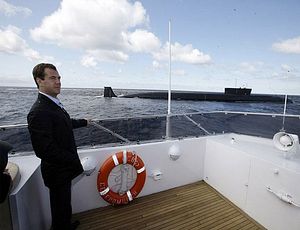 Russia's two newest classes of submarines–the Yasen-class multi-purpose attack nuclear submarine (SSGN) and the Borei-class ("North Wind") nuclear-powered ballistic missile submarine (SSBN)—are expected to be fitted with a new deep-water torpedo by 2017.
According to TASS news agency, the advanced Futlyar deep-water torpedo is currently undergoing state trials. The new torpedo is an advanced variant of the533-milimeter Fizik-1 homing torpedo that has recently entered service with the Russian Navy, a source within Russia's defense industry told TASS.
"The new variant of the torpedo is undergoing state trials at Lake Issyk-Kul in Kyrgyzstan, which are due for completion later in the year. If the torpedo passes the tests, it will enter service and its full-scale production should begin in 2017," the source said.
"The Futlyar will also be supplied with an improved homing system with an extended underwater target lock-on range. It will retain the baseline model's range, speed and maximum launch depth – 50 km, over 50 knots and 400 m respectively," the source added.
Once in full-scale production, the Futlyar heat-seeking torpedo is slated to replace the Fizik-1 and Fizik-2 torpedo variants. Full-scale production of Fizik torpedoes has only started about a year ago and it unclear how many submarines have been fitted with the weapon system.
The Futlyar torpedo, developed by St. Petersburg Research Institute of Marine Engineering, will also have the capability to be controlled from the submarine once launched.
Russia's Navy currently operates one Yasen-class SSGN, the K-329 Severodvinsk, and three Project 955 Borei-class ("North Wind") aka Dolgorukiy-class of SSBNs. The induction of Yasen-class subs has suffered from repeated delays as I reported previously (see: "Groundhog Day: 'Russia Developing 5th Generation Sub'"):
[W]aiting for the completion of the Yasen project could take a while. The 13,800-ton, 390-foot longand highly automated Yasen-class of Russian attack submarines was supposed to replace older Soviet-era multi-purpose nuclear submarine models by 2020.

Yet, the exorbitant costs of the submarines — estimated to be twice as much as the new Borei-class SSBNs – has so far led only to the commissioning of one out of eight SSGNs, with a further three to four vessels likely to be completed by 2020.
The introduction of Borei-class subs into the Russian Navy has also been repeatedly postponed. For example, as I have written earlier this week:
 The arrival of the Borei-class SSBN,Vladimir Monomakh, commissioned in December 2014,  in the Pacific Ocean has been postponed due to outstanding trials (some sources indicate that the delay has been, in fact, due to a failure of the Russian defense industry to deliver a full set of Bulava ICBMs) to 2016. 
The Russian Navy has been suffering from a torpedo shortage for some time.  "Our manufacturers make obsolete torpedoes that were developed back in the 1980s and we don't even have enough of them for testing when building or refitting ships and submarines. The torpedoes that we have in storage are out of their service lives and can't be used," a source within the Russian Navy told Interfax in 2013.