The month of September was kind to New Politics Alliance for Democracy (NPAD), South Korea's main opposition party, and for NPAD leader Moon Jae-in's presidential hopes.
According to the October 2 JTBC news segment Kukhui (Korean for "National Assembly"), public opinion polls from the end of August show that NPAD has increased its favorability for next year's general election. News such as this is little more than grist to the "electoral spectacle" mill, but it gives a good reading of current popular opinion towards the South Korean left.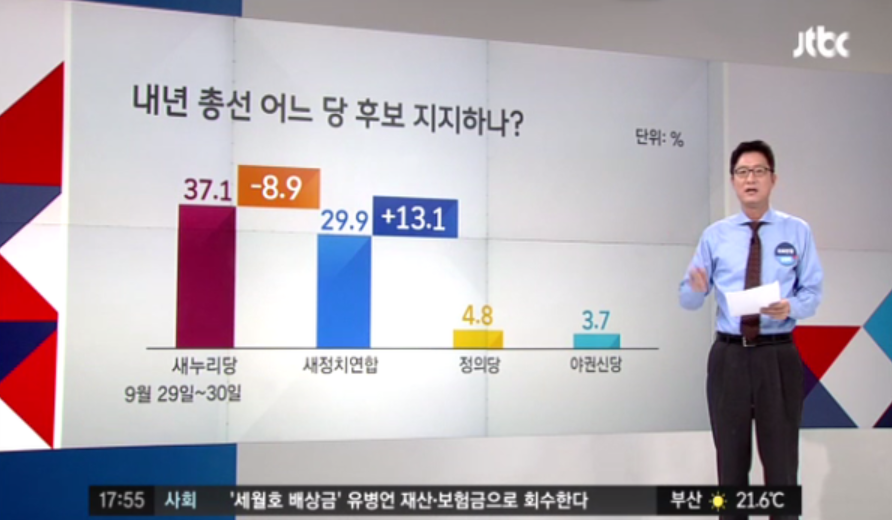 As this screenshot of a chart from the JTBC segment shows, to the question, "In next year's general election, which party's candidate do you support?" 29.9 percent said NPAD and 37.1 percent said Saenuri, the current ruling party. While NPAD still trails Saenuri by a significant margin, the current level of support represents a 13.1 percentage point increase since the beginning of September. During the same period, Saenuri's support dropped by 8.9 percentage points.
Support for presidential hopefuls shows more positive news for NPAD, especially its embattled chairperson Moon Jae-in. Despite intra-party feuding, Moon remains the preferred liberal-progressive candidate among the public.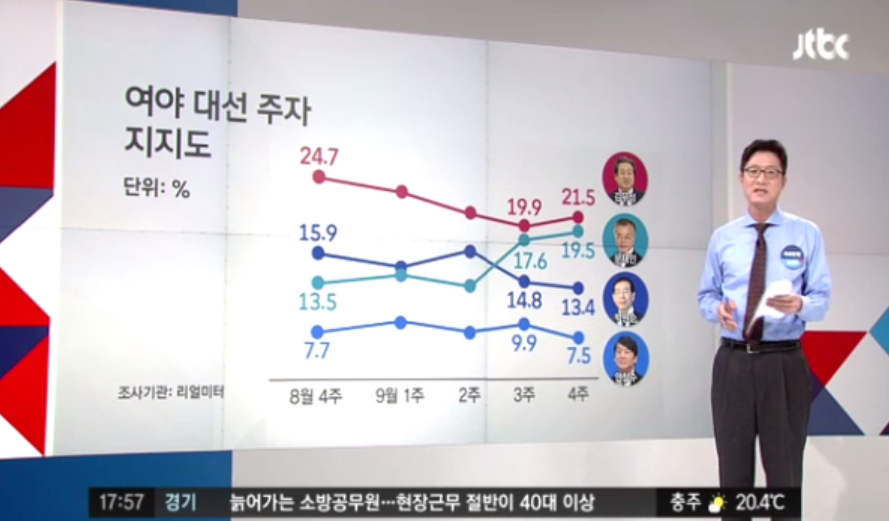 As the second chart shows, over the month of September support for Moon as presidential candidate in the 2017 election increased 6 percentage points, from 13.5 percent to 19.5. Over the same period, support for Kim Moo-sung, the current Saenuri chairperson and conservative presidential hopeful, decreased 3.2 percentage points, from 24.7 percent to 21.5. Seoul mayor Park Won-soon also lost support, dropping 2.5 percentage points (15.9 percent to 13.4) and dipping below Moon.
The segment also reported that within Honam, support for a New Honam Party is now less than support for NPAD. While certainly welcome news for Moon and his backers within the main opposition, that there is even competition in the liberal's traditional home base is cause for concern. It is also unclear the effect recent party defections and continual infighting will have on party discipline and electoral viability going forward.
For now, however, Moon will likely try to ride the current wave of support to squelch intra-party doubts and potential challengers.