Moon's Prosecutor Pick Puts Reform Efforts Back in the Spotlight
Kim Oh-soo, the nominee for prosecutor general, is a strong supporter of President Moon's controversial prosecution reform plan.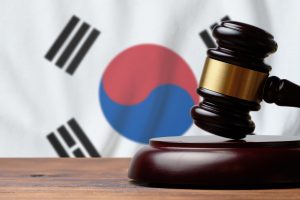 This week, President Moon Jae-in announced that he will name Kim Oh-soo, former vice justice minister, as his nominee to fill the spot of South Korea's top prosecutor. The prosecutor general spot was left vacant after a series of controversies earlier this year that left the position at the center of partisan struggles between Moon's camp and the conservative opposition party.
The controversy stems from Moon's now years-long efforts to overhaul South Korea's Supreme Prosecutor's office, with the goal of decentralizing power and creating a Corruption Investigation Office for High-ranking Officials (CIO) that could specifically handle high-level or politically sensitive cases. The struggle over these reforms eventually culminated in a showdown between then-Prosecutor General Yoon Seok-youl, who was resisting these reforms, and then-Justice Minister Choo Mi-ae, who was pushing for them. Choo resigned back in December after failing to rein in the situation; Yoon eventually resigned in March.
Moon's decision to appoint Kim shows his ongoing commitment to the issue. Kim served as vice justice minister for two years under three different justice ministers, and is seen as an active supporter of prosecution reforms. Because of this, however, the nomination is likely to be strongly opposed by conservative factions within the National Assembly.
In fact, conservatives are likely to feel even more emboldened after the main opposition People Power Party (PPP) won major victories in April's by-elections, and now holds the mayorships in both Seoul and Busan. The elections were broadly seen as a referendum on Moon – according to one poll afterward, almost 80 percent of respondents felt people didn't vote in support of the PPP so much as they voted in opposition to the ruling Democratic Party.
And while prosecution reform was not necessarily one of the key issues in that election – housing prices and an ongoing land speculation scandal were the main issues, along with frustration over the slow rollout of COVID-19 vaccinations – Kim's nomination and confirmation hearing could bring the issue to the forefront of the political agenda once again.
Kim himself acknowledged the tough road ahead, saying in a statement after his nomination was announced that he felt a "sense of heavy responsibility" and recognized he was nominated during a "hard and difficult time."
This is not to say that Kim won't be confirmed – Moon's Democratic Party still holds a majority in the National Assembly and experts are torn on whether the PPP's victory in the by-elections will have a significant effect on the ruling party's agenda. However, even just expressing extremely loud opposition – a tactic regularly used by South Korea's opposition in recent years – can set the political agenda in a way that is unfavorable to the Democratic Party's ongoing reform efforts.
With Kim's nomination as well as several rounds of cabinet reshuffles, the Blue House seems to be looking to get things back on track and work to push through any key policy priorities – including the prosecution reform – as Moon enters his final year in office. And while Moon's approval rating has slipped in recent weeks, dipping below 40 percent for the first time in his presidency, according to Gallup polling numbers, the dip is pretty much in line with trends for previous South Korean presidents toward the end of their terms. If Kim can get through the nomination process without too much spectacle and begin solidifying the prosecution reform process, that may help set the stage more in the Democratic Party's favor for next year's presidential elections.