US Navy Ready to Sail Within 12 Nautical Miles of China's Artificial Islands in the South China Sea
Two reports say the long-awaited freedom of navigation operations may commence in the next weeks or even days.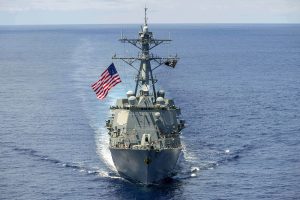 U.S. military officials are signaling that the navy is poised to send a ship within 12 nautical miles of China's artificial islands. Both the Navy Times and the Financial Times reported that the operation was imminent, citing unnamed U.S. officials.
Financial Times' source said that the freedom of navigation operations was expected to start within two weeks. Navy Times' sources indicated that the operation "could take place within days but awaits final approval from the Obama administration." The Navy officials said they believed that approval was coming soon.
Despite some genuine progress made in other areas during Chinese President Xi Jinping's visit to the U.S. in late September, there was little consensus on the South China Sea issue. And since Xi returned to China, U.S. officials have only ramped up their rhetoric on the question of freedom of navigation in the disputed areas.
The commander of the U.S. Pacific fleet, Admiral Scott Swift recently denounced an "egregious" trend toward "superfluous warnings and restrictions on freedom of the seas," particularly in disputed waters. "It's my sense that some nations view freedom of the seas as up for grabs, as something that can be taken down and redefined by domestic law or by reinterpreting international law," Swift said, speaking at a conference in Sydney. He pledged that the U.S. "will continue to exercise freedom of the seas for all nations."
U.S. officials, including Defense Secretary Ash Carter, have repeatedly stated that the U.S. will operate military vessels and aircraft where international law allows, but Assistant Secretary of Defense for Asia-Pacific Security David Shear recently told a Senate hearing that there haven't been any operations within 12 nautical miles of a reclaimed feature since 2012. Analysts (such as Sean P. Henseler, writing for The Diplomat) as well as members of Congress have urged the Obama administration to conduct such an operation – and it seems that pressure is having an effect.
However, the latest reports do not answer a key question: which of the Chinese-controlled features will the U.S. Navy seek to approach? As I explained in a previous article, the legal rationale for a freedom of navigation operation within 12 nautical miles of an artificial feature only applies to some – not all – of China's artificial islands. Any feature that qualified as a rock prior to China's land reclamation and construction would be entitled to a territorial sea under the UN Convention on the Law of the Sea. The U.S. would still enjoy the right of innocent passage within a territorial sea, but the point of this particular operation seems to be to prove that building an island on a low-tide elevation does not grant the LTE any territorial waters under UNCLOS. In that case, it matters greatly which feature the U.S. chooses to approach – and whether or not China shares the same understanding about the status of the feature prior to the island-building.
Back in September, when asked about potential U.S. patrols near China's artificial islands, Foreign Ministry spokesperson Hong Lei said that China was "seriously concerned." Hong explained: "China, like the U.S., champions navigation freedom in the South China Sea, but opposes any country's attempt to challenge China's territorial sovereignty and security under the pretext of safeguarding navigation freedom."