US Will Sell 8 F-16 Fighter Jets to Pakistan
With the sales announcement the White House is trying to boost the U.S.-Pakistan partnership.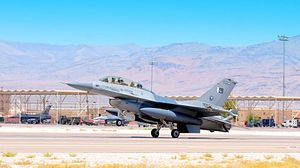 The United States is preparing to sell eight F-16 fighter jets to Pakistan in order to bolster bilateral ties between the two countries senior American officials told The New York Times.
U.S. President Barack Obama welcomed Pakistan's Nawaz Sharif to the White House Thursday. As of now, it is unclear whether the weapon sale was discussed in any detail. So far, no public announcement has been made.
However, the United States Congress can still block the sale. Back in March 2015, the U.S. House Committee on Foreign Affairs froze $150 million in foreign military financing and put a hold on the delivery of a number of used U.S. Navy cutter vessels since they were not deemed essential in fighting militants in Pakistan.
"We remain deeply concerned that Pakistan has failed to take meaningful action against key Islamist terrorist groups operating within its territory," the committee's chairman noted in a letter sent to the U.S. State Department in March.
In April, the U.S. State Department has approved Pakistan's request for a possible sale of U.S. military hardware that includes attack helicopters, missiles, and communications equipment at an estimated cost of $952 million, which is also still subject to congressional approval.
Forty F-16 fighters were first introduced to Pakistan's Air Force (PAF) in the 1980s. However, due to the 1985 Pressler Amendment, the United States cancelled the sale of an additional 28 F-16s in 1990 and imposed sanctions on Pakistan because of its burgeoning nuclear weapons program.
In 2006, a contract was signed between the United States and Pakistan over the purchase of 18 new F-16C/D block 50/52 aircraft with an option for another 18 more. The first three F-16C/Ds were delivered in June 2010 with the rest inducted into the PAF by the end of 2012. That same year, the United States delivered 14 used F-16s to the PAF.
According to a Pakistani government official quoted by IHS Jane's Defense Weekly, "[t]hese new aircraft will be more advanced than the last batch of F-16s [the contract for which was signed in 2006]."
The PAF currently operates around 70 F-16s. In February 2014, Islamabad announced that the PAF would purchase an entire squadron of 13 F-16 A/Bs from Jordan.  Delivery of the new aircraft have begun in April 2015.
The principal concern of U.S. lawmakers is that the F-16s will not be used to battle militants within Pakistan but rather be deployed to deter India. However, an unnamed PAF officer quoted by IHS Jane's Defense Weekly said back in 2014 that the "F-16A/Bs have been procured from Jordan to take some of the load off our other F-16s, which are undertaking numerous tasks in the 'law enforcement' operations. The F-16s are supporting our ongoing law enforcement efforts on our western border. We are not using [attack] helicopters, but are using F-16s to stop the terrorists."
Between 2002 and 2014, the United States has sold around $5.4 billion worth of military equipment to Pakistan, according to the Congressional Research Service.