With Forced Evictions, Turkmenistan Isn't Playing Games
A new report says Ashgabat has demolished thousands of homes to prepare for the 2017 Asian Indoor and Martial Arts Games.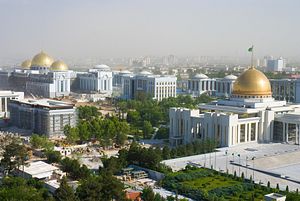 Ashgabat, the capital of Turkmenistan, is famous for its looks, especially its white marble. In 2013, Guinness World Records recognized the city as having the "highest density of white marble clad buildings" with 543 new buildings covered in over 4 million meters of white marble. But while parts of Ashgabat sparkle–other areas, where once homes stood, are little more than rubble.
A new report from Amnesty International claims that an estimated 50,000 Turkmen have been evicted from their homes in several of the capital's neighborhoods as part of an ongoing beautification drive geared to cleaning up the city in advance of the 2017 Asian Indoor and Martial Arts Games.
The report is largely based on satellite images of affected neighborhoods and information provided by Alternative News of Turkmenistan and the Turkmen Service of RFE/RL. RFE/RL's Turkmen service has been reporting for years about instances of forced evictions and demolition in Ashgabat.
One of the neighborhoods most affected by the demolition campaign–and at the core of Amnesty's report–has been Choganly, an area designated for "dachas" (countryside or holiday houses). But the residences in Choganly, which is on the northern side of Ashgabat near the airport, have reportedly been used as primary residences. To make matters worse, "reportedly some of the affected families had been forcibly evicted in previous waves of urban development and, at the time, compensated with empty plots of land and plastic tents in Choganly. They then built new houses and cultivated crops and reared animals there."
Those evicted were reportedly given little notice and no alternatives to demolishing and relocating their own homes.
There are two Ashgabats. Looking at images available from Google Maps of Choganly and then watching this CNN report from the capital in May, causes a distinct sense of cognitive dissonance. In the former, the outlines of demolished homes are evident, in the later–Amanda Davies, a sports presenter for CNN International–notes the capital's long empty roads, lined with marble buildings.
In that CNN video, which is well done even if the images allowed by Turkmen authorities are all gleaming, Jizhong Wei, the vice president of the Olympic Council of Asia makes some comments that similarly induce a state of dissonance. "Democracy, human rights…" he says, "In different countries they have a different interpretation. Here, the people is satisfied because this…[unintelligible]… guarantees, guarantees them their quality of life. They told me they get everything from the government."
The quality of life in Turkmenistan is in flux and doesn't seem to include homes (or satellite dishes) anymore. In September, Eurasianet cited state media as reporting that the Council of Elders advisory board had proposed "to abolish the free supply of electricity, cooking gas and water to the country's households." Whatever the quality of life is in Ashgabat, it seems to be changing, and not for the better.