China's Big Plans for Big Data
Plus, China's statistical tricks, the Ma-Xi meeting, and what China's destroyer said to the USS Lassen. China links.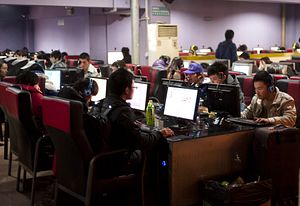 China links:
What happens when an authoritarian regime taps into Big Data? In China, the answer is apparently a "social credit system" – a term referenced in the preliminary report on China's 13th Five Year Plan. Writing for the Wall Street Journal's China Real Time Report, Chuin-Wei Yap and Gillian Wong look at what we know about China's plans for Big Data. Details are vague, but officials apparently plan "a system that would evaluate the behavior of individuals and businesses by tapping on vast troves of personal digital data accumulated from its citizens' online activity, such as purchases and other forms of digital presence, as well as data related to food-safety or pollution incidents for firms."
In many ways, it looks like an update to the old dang'an system of simply keeping files on China's citizens – but potentially with more detailed information than ever before, thanks to the wealth of information that is available by tracing electronic and online activities. Human rights activists are already up in arms that the Chinese government will use the social credit system to tighten control of its citizens; others argue that the system, as applied to businesses, could be an effective way to crack down on corruption, pollution, and food safety. "The outcome of Beijing's massive social experiment could still range anywhere between mostly benign to highly intrusive," Yap and Wong concluded – certainly something to keep an eye on.
Meanwhile, Quartz looks at the issues China has with the data it already collects: namely, how China massages and manipulates statistics on various economic indicators. It's a detailed look at some of the "tricks" China uses to keep numbers from sparking alarm, either at home or abroad – and well worth a read, especially in light of the massive alterations China just made to its coal consumption stats.
In other news: the U.S. freedom of navigation operation within 12 nautical miles of China's artificial island on Subi Reef sparked recriminations from Beijing and counter-accusations from Washington, but it appears the actual ships involved were remarkably cordial. Reuters spoke with Commander Robert Francis, commanding officer of the USS Lassen, the ship that traveled near Subi last week. According to Francis, the Chinese destroyer that shadowed the Lassen's operations was "very cordial the entire time … even before and after the Spratly Islands transit." Francis said the Chinese ship shadowed the Lassen for a total of 10 days, both before and after the passage near Subi Reef. At the end, the Lassen received a pleasant goodbye: "When they left us they said, 'Hey, we're not going to be with you anymore. Wish you a pleasant voyage. Hope to see you again.'"
The meeting of China and Taiwan's presidents is set to for November 7, at 3:00 pm local time in Singapore. The historic meeting has stirred up some controversy in Taiwan, with the opposition claiming it's a political tactic designed to boost the sagging popularity of both President Ma Ying-Jeou and his party. For the official take from both Ma and the rival Democratic Progressive Party's presidential candidates, Tsai Ing-wen, check out the Presidential Office's summary of Ma's press conference and Tsai's statement on the visit.
In other news, the full text of the Trans-Pacific Partnership agreement – which includes 12 countries on both sides of the Pacific, but not China – was released yesterday. According to Xinhua, China's Commerce Ministry is busy reviewing the agreement to look at what affect it could have on China. Beijing has previously said it is open to trade pacts that advance economic integration in the region, and that it hopes TPP will "complement" other regional agreements.
Speaking of trade, according to the U.S. Commerce Department, during the first nine months of 2015 China was the United States' largest trading partner, surpassing Canada for that title for the first time ever. The Globe and Mail has more on what the shift means for Canada, China, and the United States.