Energy Dominates Kazakhstan-Europe Relationship
Diversification is the buzzword, but in London and Paris deals still revolve around energy.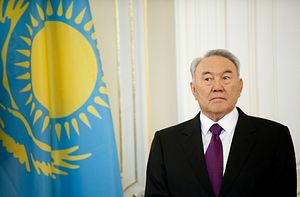 Coinciding with his two-day visit to the United Kingdom earlier this week, the Financial Times published an op-ed by Kazakh President Nursultan Nazarbayev. In the article Nazarbayev makes the case for further strengthening U.K.-Kazakhstan relations in the face of global economic uncertainty. Nazarbayev reiterates standard language, saying Kazakhstan has "worked hard to provide a bridge between east and west."
"The result is that, while we have very good relations with our neighbours Russia and China, Europe is our biggest trading partner and we count the U.S. as a strong friend," he wrote. China may be the single largest export market for Kazakhstan, currently, but in aggregate Europe is larger still.
According to the latest European Commission trade statistics, total trade between the EU and Kazakhstan amounted to over $30 billion in 2014. The relationship is far from balanced, with imports — predominantly energy resources — to the EU from Kazakhstan accounting for $23 billion. As Nazarbayev notes, Kazakhstan has used its energy wealth as a "springboard." Since independence the country's GDP has "risen sixteenfold," leaving its neighbors (aside from Russia and China) in the dust.
Growth in EU-Kazakhstan trade has been tightly linked to the global economy. Trade more than doubled between 2004 and 2008, from $6 billion to $17 billion. The global recession set trade back for a few years, before a jump to $22 billion in 2011. But the energy boom has slowed, with hydrocarbon and other commodities prices falling in recent years. EU-Kazakhstan trade has largely stagnated since 2012.
Kazakhstan's great economic challenge is diversifying, an endeavor in which it will need broad international investment.
Camilla Hagelund, writing in FT also, noted that Nazarbayev "has attempted to position Kazakhstan as a land of opportunity for British business during his official visit to the U.K. this week." However, she goes on to say, "deep-seated deficiencies in the rule of law remain a serious barrier to investment."
Corruption remains a significant problem throughout Central Asia. Kazakhstan has engaged in its own war on corruption, not dissimilar from Xi Jinping's crusade in China, but whether these battles are having a real effect on corruption is difficult to answer. Kazakhstan's problem is as much an actual corruption problem as it is a PR nightmare; the perception is that corruption abounds, making investment a risky gamble.
Hagelund makes note of Kazakh privatization plans, commenting that "more than 200 state-owned and nearly 600 local government-owned entities are earmarked for privatization." But, she says, it's not necessarily going to be easy or simple. Companies like the state-owned gas company KazMunaiGas "are hobbled by both significant social obligations and high debt levels." (I recommend reading all of Hagelund's analysis.)
But Nazarbayev, who visited France after the U.K. this week, hasn't left empty handed and Kazakhstan has been playing its proverbial cards right in its interactions with Europe. In London, he walked away with "40 contracts and memoranda of understanding worth £3 billion," (about $4.5 billion), AFP reported. The U.K.-Kazakhstan trade relationship is still largely energy-centric: the core deals were for several gas plants and a steel production facility in Kazakhstan.
In Paris, Kazakhstan capitalized on another of its abundant energy resources — uranium. Kazakhstan's state-owned nuclear company, Kazatomprom, agreed with Électricité de France (EDF), a French utility, to continue a decade-old relationship. From 2021 to 2025, Kazatomprom will supply EDF with 4,500 tons of uranium. Kazakhstan became the world's leading producer of uranium in 2009, accounting for 38 percent of world production in 2013.
According to TASS, during their visit to Paris the Kazakhs are expected to settle more than $5 billion in deals.