North Korea's Submarine-Launched Ballistic Missile Test Fails
North Korea tested its Bukkeukseong-1/KN-11 missile again. This time, the test may actually have been submarine-launched.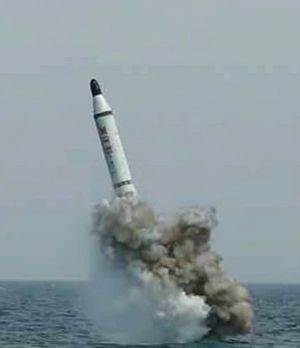 Back in May 2015 we witnessed North Korea conduct an ejection test for its KN-11/Bukkeukseong-1 ("Polaris-1") submarine-launched ballistic missile (SLBM). That test, insofar as the ejection itself is concerned, was successful, even though it later emerged that Pyongyang's video production of the launch was careless in masking that it was actually staged from an underwater barge and not a submarine. On Saturday afternoon, North Korea attempted another KN-11 test-launch which failed.
South Korea's Yonhap news agency reported that the test launch, which was staged from a submarine, took place in the East Sea "failed to soar from the waters," according to an unidentified South Korean official. The Korea Herald adds that a source noted that "The cover of the capsule where the missile was placed has been found," presumably by South Korean authorities. The event marks the second SLBM test since the Bukkeukseong-1 back in May. Kim Jong-un himself oversaw that launch and North Korea released widely circulated video footage showcasing the successful ejection.
Even if the test failed this time around, what will be important to ascertain is whether the North Koreans actually attempted an ejection test out of a Sinpo-class submarine this time around. Back in May, reports citing South Korea intelligence officials suggested that the KN-11 had been launched from a submarine, but open-source analysis soon thereafter caught evidence of a submerged barge as the launch platform. (Indeed, hints to this were available even on Google Earth.)
Jeffrey Lewis, on his blog, noted that the barge test was somewhat unsurprising. Indeed, "it would be strange if the North Koreans did not conduct such a test before moving to a full flight test," he wrote at the time. Saturday's failed test, if it was indeed an attempt to test the ejection readiness of the Sinpo-class, indicates that North Korea is making steady progress. One failed test doesn't indicate anything particularly damning about the feasibility of a fully operationalized SLBM system. We may be able to glean additional details on the circumstances of Saturdays tests in the coming days. Peering into North Korea is difficult to begin with and that's often doubly true for unpublicized, failed military tests.
The KN-11 saw its first flight test in January 2015 and has been of keen interest to North Korea watchers. The primary worry for the United States, China, and certainly South Korea is that North Korea successfully mates a nuclear warhead onto an SLBM, giving it a highly survivable nuclear strike capability. Though its Sinpo-class submarines are not nearly as advanced as most current-generation ballistic missile submarines, a nuclear-armed SLBM would be an important development in the military balance on the Korean peninsula. South Korean President Park Geun-hye described the May test-launch as a "serious challenge" to South Korea's national security and to overall northeast Asian stability.