North Korea Tests Submarine-Launched Ballistic Missile as US-South Korea Exercises Begin
The missile landed in the Sea of Japan and flew 300 kilometers, according to U.S. Strategic Command.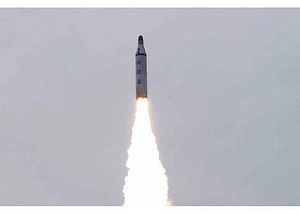 Early Wednesday morning, North Korea launched a submarine-launched ballistic missile off its eastern coast, which then splashed down in international waters in the Sea of Japan. The SLBM launch comes shortly after the United States and South Korea began their annual late-summer Ulchi Freedom Guardian military exercises and after South Korea staged its largest-ever life fire artillery drills near the border with North Korea.
According to U.S. Strategic Command, which tracked the launch, the missile was most likely a KN-11 SLBM and was launched off the coast, near Sinpo, where North Korea has been developing its Gorae-class ballistic missile submarine.
Strategic Command assessed that the missile flew approximately 300 miles from the coast of North Korea, indicating a moderate-to-high degree of success. Pyongyang's April test demonstrated a flight distance of 30 kilometers. Exhaust plume analysis of the April launch by missile experts suggested that Pyongyang had used solid fuel propellant; it's unknown if it tested the same engine on Wednesday.
Wednesday's test entered Japan's air defense identification zone, but did not splash down in the country's exclusive economic zone (EEZ). In a first, a Nodong intermediate-range ballistic missile test earlier this month splashed down in Japanese waters, drawing sharp condemnation from Tokyo.
The test is the third of its kind this year, with Pyongyang having tested the platform to differing degrees of success in April and July. Pyongyang first tested the KN-11 from a submerged barge last year. North Korea is thought to have first begun land-based ejection tests for the SLBM in 2014.
Overall, 2016 has seen North Korea conduct repeated ballistic missile tests in violation of existing United Nations Security Council resolutions. In addition to the KN-11 SLBM, North Korea has been testing its Hwasong-10 intermediate-range ballistic missiles, which are thought to be capable of nearly striking the U.S. territory of Guam in the western Pacific Ocean.
North Korea's pursuit of an SLBM is meant to complement its existing range of land-launched, road-mobile ballistic missiles and artillery. In seeking to operationalize its nuclear deterrent against capability, North Korea wants to demonstrate a robust SLBM second-strike capability.
Moreover, SLBMs could undermine recent efforts by South Korea and the United States to bolster missile defense. As Jeffrey Lewis, an arms control expert and North Korea watcher notes, a North Korean SLBM could plausibly bypass the upcoming Terminal High Altitude Area Defense (THAAD) system on the Korean peninsula due to the system's 120° radar field of view. (A submarine could conceivably launch its payload from any direction.)