Singapore Deploys Submarine to Naval Exercise With Thailand
Exercise Singsiam sees a couple of notable firsts this year.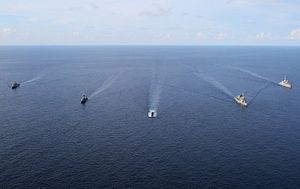 Singapore has added a submarine for the first time to the most recent iteration of a biennial naval exercise it holds with Thailand, the city-state's defense ministry announced November 10.
Exercise 'Singsiam,' which the two countries have held since 1981, ran this year from November 2 to 12. Following the opening ceremony and a shore planning phase at Changi Naval Base in Singapore, the two navies conducted a sea phase in the Strait of Malacca and the Andaman Sea.
In terms of participating assets, there were two notable firsts, according to a press release by Singapore's defense ministry. First, Singapore deployed the RSS Archer, Singapore's Archer-class diesel-electric submarine, for the first time in the history of Exercise Singsiam, along with the Formidable-class frigate RSS Intrepid and the Victory-class missile corvette RSS Vigour.
Second, both navies deployed their naval helicopters jointly for the first time to conduct anti-submarine warfare serials, an indication of how Exercise Singsiam, now in its 18th iteration, has gradually expanded in scope and complexity.
"The inaugural participation of these assets, made possible by the conducive conditions and vast expanse of the Andaman Sea, will open up a whole new frontier for mutual learning and cooperation. This augurs well for the future of Exercise Singsiam," Edwin Leong, commanding officer of the Republic of Singapore Navy (RSN) Missile Corvette Squadron, said at the opening ceremony. Leong had co-officiated the ceremony with Rear-Admiral Sittiporn Maskasem, commanding officer of the Royal Thai Navy's (RTN) Frigate Squadron Two.
In addition to the two Archer-class submarines it currently possesses, Singapore signed a contract in 2013 to procure two new Type 218SG attack submarines from German defense contractor ThyssenKrupp Marine System, with the first expected to be delivered to the RSN in 2020. This is the first time the city-state has bought new submarines following the decades-old Challenger-class and refurbished Archer class submarines it previously purchased from Sweden.
As for U.S. ally Thailand, as I have noted earlier, it is currently in a unique position of having a submarine base but no submarines, a capability it has lacked for more than six decades (See: "Thailand Eyes Submarine Fleet"). But the ruling junta made headlines earlier this year when it disclosed a billion-dollar plan to procure three Chinese-made submarines, a controversial move that was subsequently suspended (See: "Is China's New Submarine Deal With Thailand Now In Peril?").