The US and China: Actions and Reactions
Both countries are guilt of contradictory actions — and of being deliberately provocative.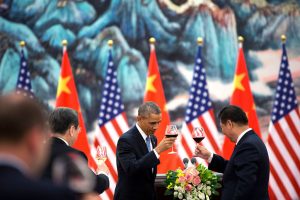 This week U.S. Defense Secretary Ash Carter visited the USS Theodore Roosevelt in the South China Sea, commenting that "our visit is a symbol of our commitment to our rebalance and the importance of the Asia-Pacific to the United States."
This "rebalance," or pivot to Asia, became a popular term following Hillary Clinton's June 2013 essay, "America's Pacific Century," in which she emphasized the importance of the Asia-Pacific region and outlined a set of goals, including strengthening ties with China.
But not everyone is a fan of the pivot, including Beijing. Robert S. Ross, professor of political science at Boston College and an associate at Harvard's Fairbank Center for Chinese Studies, wrote in "The Problem With the Pivot" that:
The new U.S. policy unnecessarily compounds Beijing's insecurities and will only feed China's aggressiveness, undermine regional stability, and decrease the possibility of cooperation between Beijing and Washington.
Indeed, as the "rebalance" progressed, China has responded with hostility to the United States' increased presence in the South China Sea. In August 2014 a Chinese jet buzzed a U.S. patrol aircraft, flying within 20 feet and turning over to expose its belly, "to make a point of showing its weapons load out," said retired rear admiral and former U.S. Defense Department Press Secretary John Kirby.
More recently, on September 2, five Chinese warships entered U.S. territorial waters and came within 12 nautical miles of the Alaskan coast. Furthermore, Obama was on a three-day trip in Alaska at the time, building support for an international accord to reduce carbon emissions. On that particular day, he had left Anchorage to spend the afternoon in an Alaskan coastal town. This was also one day before Beijing's "military extravaganza," a massive display of military power commemorating the World War II victory over Japan — and three weeks before Xi's visit to Washington.
However, cooler heads prevailed and the U.S. responded more or less with a shrug, calling the act "consistent with international law."
"This is how mature superpowers operate," said retired rear admiral David Titley, now a professor at Penn State University. "You don't go to general quarters every time there's a ship operating legally."
Perhaps U.S. officials believed that by responding rationally, and with attention to international law, they might establish a precedent if China should ever, at some future moment, find itself in a similar situation. As it happens, that moment came last week.
On October 27 the USS Lassen came within 12 nautical miles of China's artificial islands in the South China Sea. The parallel isn't exact, however, because according to the U.N. Convention on the Law of the Sea (UNCLOS), to which China is a party, artificial islands don't even extend a nation's exclusive economic zone (EEZ), whereas China had approached U.S. mainland — and the president.
Still, it was a chance to see how China might respond when put in a roughly similar situation, and the results were disappointing. Last week Chinese Defense Minister Chang Wanquan went so far as to claim the U.S. had threatened China's sovereignty and security, while this week Zhang Yangwu, spokesperson for the Chinese embassy in Britain, called it "an attempt … to militarize the region."
Zhang also pointed out that the U.S. isn't a party to UNCLOS, and he's right. The U.S. would have more authority here if it were not merely a signatory — but then China would have more authority if it honored the UNCLOS principles to which it has agreed to be legally bound.
The U.S. realizes the geopolitical value of East Asia, hence the pivot or "rebalance," but regarding China, it simultaneously wants to pursue friendship and a containment policy. China is also interested in "rebalance," one that tilts global power away from U.S. hegemony, but it simultaneously wants to threaten its neighbors and be left alone to do so.
Both countries are also deliberately provocative. There are better ways, for instance, to demonstrate "the importance of the Asia-Pacific region" than by sending one's defense secretary to a warship parked in China's backyard. And if Beijing wants to make a point about U.S. patrols near its artificial islands, why not approach the artificial island of Northstar, northwest of Alaska, rather than pulling up to U.S. mainland during a presidential visit?
Fortunately, some of the interactions between U.S. and Chinese navies have been downright friendly, and as the U.S. plans to increase its quarterly patrols in the South China Sea, one hopes this becomes a new normal. That would be a positive rebalance for both sides.